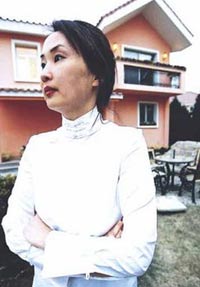 Hedy Lee, daughter of the famous Taiwan writer Li Ao, has logged more than 100 complaints since arriving in Beijing.
Is Hedy Lee just looking for trouble?
Certainly the feisty 40-year-old is no stranger to strife.
In the past year alone, the American-born Chinese has complained no fewer than 100 times about everything from her noisy neighbors to spitting taxi drivers.
Daughter of the famous Taiwan writer, Li Ao, she hit the headlines locally in Beijing after her dispute with a property management company escalated to such an extent that she was asked to leave.
While many encountering the story for the first time dismiss it as a classic culture clash, it's hard to overlook certain elements.
For starters, Lee has been living in the lap of luxury in Beijing in top-notch apartments most of us only dream about.
The dispute between Lee, an English professor in Beijing with a doctorate education background in the United States, and Beijing Mengke Property Co Ltd., reached such a impasse that the latter asked her to leave as "a bad influence."
Lee refused to budge and continued her complaints, taking the company to a local court in Beijing.
She told Beijing Weekend: "Among the 100 complaints over the past year, I almost won nothing. But I will not give up and I am confident in Beijing and China."
She has had problems going to the bank for a credit card, and later when she went to buy a car. She's even run into difficulties when driving in Beijing.
She admits to having flitted four times in just nine months and of making "dozens of complaints to the related property management organizations" throughout the entire period.
The first villa Lee rented in the capital was Beijing Riviera Apartments, an attractive suburban dwelling place that is home to many well-to-do local and foreign people.
But Lee could not tolerate her neighbor's children who often played on the public passageways.
"I had to jump over their toys when I went out or came home," Lee revealed in her newly-published book Like Father, Like Daughter. Lee ran into problems with her neighbors. She complained: "They opened their doors to neighbors and different families' ayi, and parents and children visit each other so often."
Lee sent her complaints to the property management office of the apartment but got no satisfactory answer. Instead she becomes a persona non grata in her neighbors' eyes.
Lee's last resort was to leave the apartment after just two months.
Her next home was Capital Paradise, another high-class villa for the rich. Her monthly rent was a cool US$1,800, the same as Beijing Riviera.
But after just two months in Capital Paradise, Lee clocked up more than 40 complaints. Her gripes ranged from noise, poor facilities, flyposting in the mail box, taxi drivers' spitting and her neighbor's habit of hanging out the washing and other clothing in the sun.
Again, she got no satisfaction.
Next stop for Lee was the International Club, said to be the only 6-star hotel in China. Her monthly rent shot up to US$3,000 per month.
Problems persisted. In just one month, Lee outlined more than 70 problems with the service offered by the property management staff.
"When some visiting president or prime minister came to the hotel, we would be affected though we are in the nearby apartment," Li said. "We had to empty the parking place for these high- ranking officers and security staff."
The club's property management was unable to resolve her complaints and said Lee could leave the club if she could not tolerate the surroundings.
That's just what she did, moving to her present abode, Gahood Villa in Beijing's north suburban Shunyi District.
Conflicts between Lee and her new neighbour, and Mengke Property Co Ltd, centred on the noisy environment and the poor service of the property company.
One of Lee's neighbour's, Dong Wenhua, a famous Chinese army singer, raised three large pedigree dogs. Another kept cocks while others planted vegetables in their courtyards. The dog's barking and cock's early-morning crowing were destined to dismay Lee. Some insects from the vegetable garden also violated Lee's hopes of a quiet life.
It was at this point that Lee published her book Like Father, Like Daughter. In it, she detailed most of the troublesome events she encountered in Beijing, including the conflict with her neighbour in Gahood Villa and Mengke Property Co Ltd.
At last she saw some result: "Two of Dong's dogs left the villa; the cock disappeared and the vegetable garden was replaced by a lawn," Lee said. "It was my book that helped me win these concessions."
Yet Lee has unfinished business. She wants to see Dong's other dog disappear: "According to Beijing's local rule, such a large-sized dog is forbidden to be raised in Beijing, including the suburb Shunyi," she reasoned.
To help make her point, Lee has decorated her window in the villa with eye-catching logos such as "Civilized people live civil residential villa," and the Chinese motto "He who fears not being cut to pieces dares to unhorse the emperor."
Said Lee: "The conflict with my neighbour and the Mengke Property Co Ltd is in a stalemate now. I am very tired of these clashes but will continue to stand up for my rights."
Two weeks have passed since Beijing Mengke Property Co Ltd asked Lee to leave Gahood Villa on February 10. She says threats to cut her electricity and water supply have come to nothing.
Lee says she inherited her character from her father Li Ao, who is well known as an historian, essayist and political satirist.
"If Taiwan can tolerate a Li Ao, I believe the mainland can tolerate his daughter," Lee told Beijing local media. "I will continue to stick by my principles and will not change them."
(Beijing Weekend February 27, 2004)