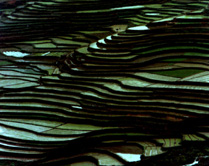 China will carry out a nationwide inspection on arable land protection next month to collect information to better arable land management and ensure the grain security of the country.
According to the inspection outline jointly issued Friday by the Ministry of Land Resources (MLR) and the Ministry of Commerce, a newly-established leading team of the inspection will gather information on arable land protection, management, establishment and implementation of an arable land protection system and changes in this regard.
All outstanding problems in arable land protection, said the outline, such as transgressions in granting arable land use rights, illicit expropriation of arable land and actions damaging to arable land management, will be rectified during the inspection and those directly responsible for such cases will be punished according to law.
Eager to boost local economies, some local governments have in recent years jumped into a blind flurry of constructing development zones or industrial parks regardless of local conditions, greatly reducing arable land and endangering China's security in grain supply.
Statistics from MLR show that in 2003 alone, China's farmland acreage decreased by some 2.67 million hectares to 123.4 million hectares, owing to such factors as the extension of the scale in the total land acreage for construction use.
(Xinhua News Agency February 27, 2003)