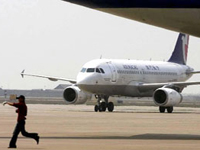 The new air route linking Shenzhen City, south China's Guangdong Province, and Taipei via Macao, which was launched on Tuesday, has been welcomed by business people from Taiwan working on the Chinese mainland.

Taiwan business people in Shenzhen and Dongguan cities are considered to be the biggest beneficiaries of the new route.

An Air Macao Airbus 319 aircraft carrying about 100 passengers took off at 12:40 p.m. on Tuesday from Shenzhen Airport for Taipei after a brief symbolic stop in Macao, but passengers were not required to change flights. The trip took about three hours, said an airline spokesman.

Two return flights from Shenzhen to Taiwan would operate each day in the beginning.

The Pearl River Delta is one of the main focus areas for Taiwan-funded businesses. The number of business people and technological administrative workers from Taiwan is estimated at more than 200,000.

No direct flights are available across the Taiwan Straits, so passengers from Taiwan have to change flights in Hong Kong or Macao when they travel to the mainland or vice versa, wasting time and money.

Zhou Yongren, general manager of Dinghuei Food Co. Ltd., a Taiwan-invested venture based in Huadu District of Guangzhou, the provincial capital, said he previously flew from Taipei to Macao before taking a bus to Guangzhou, going through security procedures at Gongbei Checkpoint in Zhuhai, the city that borders Macao.
"It is quite troublesome, and usually it takes more time to go through security checks than at airports regardless of whether you travel via Macao or Hong Kong," said Zhou.

He said he would consider traveling home from Shenzhen on the new service to avoid troublesome security checks.

Chen Cheng, general manager of Taiwan Natural Tea Co. Ltd., who had long been annoyed by the inconvenience of cross-straits travel, was also glad to have the new service.

Chen has to travel across the Taiwan Straits once or twice a month for business. "The new service is a disguised form of direct flight across the strait," said Chen. "Real direct flights would be better as it would just take one hour or so, saving time and money."
(Xinhua News Agency March 10, 2004)