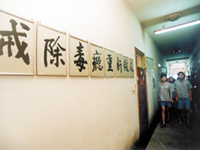 Three years ago, A Qiang was only 17, but he had been taking drugs for three years.
Leaving home in Lufeng, a county in south China's Guangdong Province after his parents' divorce, A Qiang began his vagabond life at Guangzhou Railway Station and soon, he learnt to overcome his fear, depression and even hunger with drugs.
When he was found by a local journalist in 2001, A Qiang was a physical and mental wreck. He was then sent to the city's Baiyun Voluntary Drug Rehabilitation Center.
Li Ling, a doctor at the center, has a clear recollection of A Qiang.
"He was only a bag of bones when he first came. But after the rehabilitation, he visibly put on some weight. More importantly, he developed a healthy view towards the world, no longer blaming society each time he was wronged."
Gazing into a mirror while leaving the center after 20 days of rehabilitation, which was provided free, A Qiang was amazed to see his transformation.
It was, however, no surprise for Doctor Li, who has been working with the center since its establishment in September 2000, and has witnessed many such rebirths of former drug addicts.
Known as one of the best non-governmental voluntary drug rehabilitation centers in the city, Baiyun center, affiliated to the Guangzhou Committee of Communist Youth League, has so far offered help to more than 3,000 drug addicts.
About 72 percent of them have completely stopped using drugs after they underwent rehabilitative treatment, the center's statistics show.
Back home, A Qiang did not use drugs any more and opened a motorbike repair shop with the financial support from the center.
A home of their own
To drug users, Baiyun centre conjures up no bleak images usually associated with compulsory detoxification centers.
With sports and entertainment facilities, and even a beauty salon, patients call the center their home.
Rehabilitation usually lasts for about one month, mainly using methadone and traditional Chinese medicine, supported by psychological counseling.
"Our center protects drug users' privacy and all of them are referred to as patients," says Doctor Li.
"We often have talks with them. We want to let them know that society is with them," Li added.
The center is committed to help drug users drop their psychological dependence on drugs first. "Otherwise, they will relapse into drug use soon after they finish the rehabilitation process," says Li.
Regarded as an anti-social group, drug users are usually segregated from society and often have to idle away time with other drug users, even they have gone through rehabilitation.
In the center, doctors are required to have talks with patients.
"Shaking hands with them and smiling at them gives them the feeling of warmth," says Li.
A woman surnamed Wang was attracted to the Baiyun center by the positive comments from former drug users.
Four years ago, she was told by her friend that heroin could help her lose weight. She tried it out of curiosity and quickly developed an addiction.
Late last month, Wang made up her mind to shake off the habit.
"My family does not know I have come here to receive voluntary rehabilitation. What's more, they did not know I had been using drugs for so long a time," she says. "But I'll try to face them with a new look after this."
Management vital
Guangdong Province has more than 140,000 known drug users.
As more people fall victim to drug addiction in this booming province in south China, more voluntary rehabilitation centers, some run privately, have been opened.
Last year, the Guangdong Provincial Health Bureau authorized 34 private rehabilitation centers in the province, according to Zhang Wei, an official with the bureau.
It is estimated that there are about 300 such voluntary centers nationwide at present.
Eight years ago, there were 15 such voluntary rehabilitation centers in Guangzhou but some were forced to stop operation because of malpractices.
"Such centers must be strictly operated in line with the law, or they become a hiding place for drug users to escape the police," says Li.
In China, drug users are required by law to undergo rehabilitation in detox institutions once they are caught using drugs. Researchers have found that it is very hard for users to drop drugs completely after they end the days in the detox institution.
As a result, experts suggest that voluntary rehabilitation centers continue to play an important role in fighting against drug abuse.
(China Daily March 18, 2004)