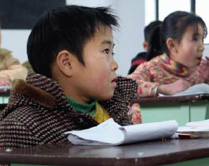 China's millions of migrant workers and their families are breathing a little easier after measures have been taken to improve their lives.
The Ministry of Finance has issued a directive, ordering the termination of all kinds of surcharges on rural labourers who work in cities. The fees, regarded as irrational, are levied by local governments.
And all of them are now prohibited -- except for having to pay for temporary residency cards and marital and fertility certificates, which cost no more than 5 yuan (62 US cents) each.
Starting from autumn, migrant children going to urban schools for compulsory education will only pay as much as their classmates with local permanent residency cards, which is the biggest break for the migrant population.
Due to the rigid household registration system launched in the old planned economy era, the rural population has long been deprived of many rights that their city cousins enjoy.
An increasing number of rural labourers are moving to cities for work. Yet, without permanent residency status, they face obstacles while attempting to get jobs and receive social welfare, in addition to the headache of their children's education.
As urban public schools charged extra or just closed their doors to migrant children, cheap private schools mushroomed to take up the slack.
But it was a double-edged sword: A lack of funding for the schools meant they could only offer a poor quality of education. There were minimal facilities and few qualified teachers.
In a national campaign last year to improve quality and conditions, almost all of the migrant schools were shut down, which at the same time forced many migrant children out of education. It attracted wide attention and ignited heated discussion.
The government was urged to take more responsibility to improve the lives of the migrant population, including providing all migrant children with a compulsory education. Moves have since been made.
Beijing, Changchun of Northeast China's Jilin Province, Qingdao in the eastern Shandong Province and many other cities have announced the cancellation of extra school fees for migrant children, which is very encouraging.
Education Vice-Minister Zhang Xinsheng stressed again on Tuesday that local governments should be responsible for providing compulsory education to migrant children, saying "they should either let migrant children attend public schools or set up special migrant schools."
But there is still much to do to ensure the smooth implementation of equal treatment for all.
For example, Zhang's garbled remark did not explain if special migrant schools meant private migrant schools or if migrant schools would be funded by public revenue.
The government should work out detailed measures in terms of resource allocation, considering the impending increase of migrant children in public schools later this year.
Under the current practice, public school funding is determined by the number of students with local permanent residency, which was the major reason for the extra fees faced by migrant children. Now, such a practice should be changed.
And with all public schools opening their gates to migrant children, there is no need to set up special migrant schools, which only segregate migrant children from their urban peers.
(China Daily March 29, 2004)