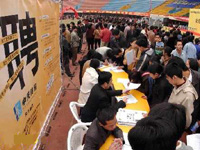 Yang Qihua, a Chinese student who just graduated after studying abroad for the past three years, finds himself in a quite difficult situation when applying for a good job in Chinese domestic enterprises, and so far, he hasn't even received a first-round interview notice from the companies he is interested in.
"I chose to study abroad for a future good-paid job and I know it's a hard time to look for a job in China, but I still didn't expect it would be so hard for returned overseas job-seekers," Yang said in a interview with Xinhua Monday.
The latest official statistics showed that by the end of last October, the cumulative figure of Chinese students studying abroad totaled 580,000, and nearly 160,000 of them choose to find a job in their mother country.
Zou Rongjin, vice president of Canon System Software Inc., explained that the hardship the returned students faced was due to their lack of career experience and some basic understanding of the Chinese situation.
"A graduate who speaks excellent foreign languages is no longer the 'prom queen' for the domestic enterprises," Zou said, stressing that what enterprises really need is someone who is experienced in management, public relations and practical skills.
"The returnees often ask for preferential treatment and a high salary with an excessive self-estimation, but as a matter of fact, they are not as unique as they were five or six years ago and could be fairly replaced by the local talents," Zou added.
However, experts said that returned students having difficulty in finding a domestic job post was just a normal occurrence in a process of high-speed economic and educational development.
Al Trussell, a professor with a US educational services exchange with China, said that the current difficult situation might also play a positive role for the returned students to make a rational evaluation of themselves.
The competition and opening in China's human resource market would initiate the circulation of talents and further integration of the market, Trussell said, advising the returned students to reconsider to learn more about China and adapt themselves to the career requirement.
(Xinhau News Agency March 29, 2004)