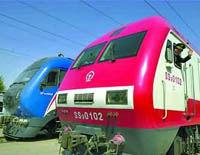 China's rail network will pick up steam this weekend.
The nation's railway network will launch a massive acceleration campaign on Sunday, at the end of which some passenger trains should run at speeds surpassing 160 kilometers per hour along a 7,700-kilometer-long network.
The average speed of passenger trains will reach 65.7 kilometers per hour, up 4.3 kilometers per hour and top speeds could reach 200 kilometers per hour in some sections, said Hu Yadong, vice-minister of the Ministry of Railway.
The railway lines involved in the acceleration total 16,500 kilometers. And freight trains will also run faster, the vice-minister added.
Among passenger trains, the speed of direct express trains will reach 119.2 kilometers per hour and that of express trains will reach 92.8 kilometers per hour on average, the vice-minister said.
This is the fifth time China has moved to speed up its trains since 1997.
As a major part of this fifth acceleration, the nation's railway network will start non-stop passenger train services as of Sunday, when a total of 19 pairs of new express train, to be marked with "Z" on the schedule, will run from the departure station to the destinations without a single stop en route.
Railway authorities promise that high-quality service will be another feature of Z-line trains besides saving time for passengers.
Tickets for Z-line trains can be booked and bought 180 and 20 days in advance respectively. Customer ticket orders become invalid if not paid 7 days before the departure.
Passengers can benefit a lot from the latest acceleration of railway systems since ticket prices will remain unchanged though traveling time will be shortened and the traveling environment improved, Hu said.
A plan for a sixth acceleration of the railway system is in the pipeline, said Hu.
He said the plan is an important move to meet the urgent demand for sustainable development of the national economy since sluggish railway construction has created a bottleneck for rapid growth of the economy.
He said that 2 trillion yuan (US$241 billion) will be invested in railways nationwide by the end of 2020. Funds may come from the government and foreign investors.
The Railway Ministry has outlined a long-term plan until the year 2020 on development of the railways.
By the end of 2020, the total railways available for transport will be increased to 100,000 kilometers from the present 73,000 kilometers, Hu said.
According to the plan, passenger and freight transportation will be partly separated.
Some 12,000 kilometers of railways specially designed for passenger transportation may be built in coming years, said Hu.
He said foreign investors are welcomed to invest in railway construction.
(Xinhua News Agency April 17, 2004)