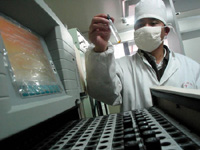 Guangdong will provide free treatment for all tuberculosis patients in the province, the Guangzhou Daily reported Wednesday.
The free treatment will also cover migrants who have a temporary residence permit for more than six months.
The new policy will benefit more tuberculosis patients, the newspaper said.
Guangdong has about 40,000 new tuberculosis patients every year, accounting for one-tenth of the national total, the provincial public health department said.
About 5,000 people die from the disease each year, the department said.
Some 67 percent of patients are aged between 15 and 55. There are more cases in the province's poor mountainous areas than in the comparatively rich Pearl River Delta area.
(Shenzhen Daily April 29, 2004)