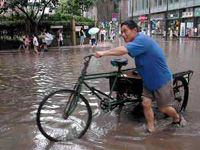 Most cities and counties have issued red rainstorm alarms after it has been raining in Guangdong since Wednesday.
Rainstorm swept Yunan County in Guangdong Province Thursday, leaving more than 20,000 residents in the county afflicted, local officials said Friday.
From Wednesday night to early hours of Thursday, a storm, with rainfall peaking 200 mm, caused mountain torrents and landslides. The ensuing floods burst the embankment of a local river and destroyed some houses in 32 villages of 15 townships in the county.
Also demolished were a bridge, 104 water conservancy facilities and some power supply and telecommunications equipment.
Rescue work is well underway.
(Xinhua News Agency May 13, 2004)