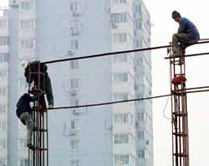 Three years have passed, but the scar on Tang Liang's left leg is still visible. He was painting on top of a saddle scaffold about 2 meters high one afternoon in 2001 when a gust of wind blew off a moulding board, which struck him.
He was taken to hospital and given a dozen stitches.
Tang says he was discharged from hospital a few days later, with nothing but the scar -- and a bill for more than 1,000 yuan (US$120), which was roughly two months of his salary at that time.
"Without an employment contract, my boss didn't pay a penny for the accident," he said.
Things are different now. With fluent putonghua (standard spoken Chinese) and a mobile phone attached to his waist, the 30-year-old Tang, who came to Beijing from east China's Anhui Province three years ago, has been promoted to the position of foreman.
With a monthly income of more than 1,000 yuan (US$120), he is satisfied. "Life would be perfect if only I don't fall victim to illness or injuries," he said.
Latest data from China's State Statistics Bureau show that China now has 99 million migrant rural workers, a result of surplus labor in rural China.
They have come to the cities to do the most dirty and dreary work, in search of a better life.
To date, only 3.4 percent of migrant workers are covered by the country's old-age pension system. Those who are involved in medical insurance system cover only 2.7 percent of the total migrant workers.
Rural researcher Dang Guoying acknowledges that the figures basically reflect the current situation of rural migrant workers. Although many cities have formulated and promulgated special regulations dealing with social security for migrant rural workers, only a few have achieved marked progress, he said.
Unenthusiastic response
But this is not always the problem of local government. In the economically prosperous provinces of Guangdong, Zhejiang and Jiangsu, some migrant rural workers teamed up to boycott what was intended for their own benefit, when local government attempted to incorporate them into regional township social security systems.
"I was shocked," said Liu Caixia, 20, who works in a restaurant in Guangzhou, capital of Guangdong Province, when she was told for the first time that she had to "pay cash now for the well-being of the future."
"I was lucky to get a job, but I have no interest in social security," said Liu, from the city of Zunyi in southwest China's Guizhou Province. She and a dozen friends all refused to take part in the social security system.
"I have been working here for two years and have never seen anyone sign a social security contract," Liu said.
He Ping, a social security expert with the Institute of Social Insurance, explained that employment is still the top priority for migrant workers in China at present.
What migrant workers want most is employment. Without a job, they won't be able to stay in cities, He said.
And after that they will be able to think about the protection of their labor rights, such as whether they are forced to work more than 8 hours a day, or whether they get the pay on time.
The social security comes last for migrant workers considering current situation.
He agrees that both enterprises and migrant rural workers are apathetic about the current social security system.
He attributes the problem to the fact that insurance expenses are shouldered by both sides, which means increased labor cost for enterprises and reductions in pay for workers.
As more farmers choose to leave their land behind and work as migrant workers in cities, they have more or less abandoned the assurance once provided by their land, especially for those who have decided to stay on in cities and not to return to the land.
"Thus it is necessary to provide migrant workers with social security in the end," He said.
While many experts blame the migrant rural workers for their lack of risk awareness, economic analyst Zhang Hong has a different stance.
He says the primary reason that they are not participating in the current social security system is the burden of monthly payments, which is a big expense for the low-income workers.
A recent survey conducted in Dabieshan Region, an impoverished mountainous area in Anhui Province, shows that nearly all local youngsters have gone to cities, the majority of whom work as migrant workers in the rich Yangtze River Delta.
They regularly mail a portion of their savings home, which account for up to 60 per cent of the total income of their respective families.
"When someone can barely make ends meet, how could you expect them to be able to invest in the future?" Zhang asked.
Moving makes it hard
Wang Chunguang, a professor from the Chinese Academy of Social Sciences, believes "the fluid nature of migrant rural workers has become the biggest hurdle hindering them from participating in the social security system."
Theoretically, China's social security system is administered at the provincial level.
But within most provinces, it is difficult to transfer social security records between counties due to the fact that even bordering counties might vary considerably in terms of economic development and insurance payment standards.
And social security departments often complain about complicated procedures because migrant rural workers change jobs frequently.
A bigger problem is that a social security system has not been established in rural China. This means that, as soon as migrant rural workers leave the cities or become unemployed, their individual old-age pension accounts cannot be transferred to their places of original residence.
Zheng Shangyuan, a professor at the Chinese University of Political Science and Law, said laws and regulations usually provide for a comparatively stable group of people.
"It's difficult to hammer out a special law to govern social security for migrant rural workers owing to their fluidity and the unstableness of their employment," he said.
To fix the problem, he said their social security system should be divided into different levels and categories, making it more flexible.
"Economically developed regions in China should take the lead in formulating regional systems that comprise more social security options for migrant workers," Zheng said.
He said priority needs to be given to the most urgent social security project -- a work injury insurance system which would reduce the impact of occupational accidents on the livelihoods of workers -- and other urgent projects such as medical insurance and a social relief system.
At the start of September in 2002, Shanghai promulgated the Interim Regulations on Extraneous Employees' Comprehensive Insurance, which stipulates that all employees and their employers who meet requirements must take part in a comprehensive insurance system.
By the end of last year, however, only one-third of the city's registered extraneous employees had joined the system. For migrant rural workers, the road to social security remains long and arduous.
(China Daily May 20, 2004)