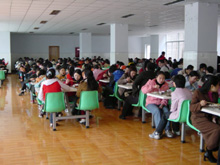 On Saturday, China launched a massive campaign across the country to regulate food production and trading to ensure the nation's food safety.
Priority will be given to rural areas and grains, meat, vegetables and fruits as well as dairy, bean and aquatic products, the State Food and Drug Administration (SFDA) said on Friday.
The one-week food-safety promotion campaign across China aims to attract more people to join government efforts to crack down on illegal food businesses.
"By providing consultations and lectures from experts, distributing publicity materials or displaying exhibitions, we hope consumers can improve their knowledge of food safety and safeguard their rights and interests," said Li Hongsen, director general of the Food Safety Supervisory Department of SFDA on Friday.
Meanwhile, rigorous measures will be taken to further supervise the raw materials of foodstuffs and prevent polluted food from entering market, said a document released by the State Council.
Food production, processing and circulation will also be highlighted, while illegal production and sales of fake, inferior and unhealthy foodstuffs will earn severe penalties.
By Thursday night, six people had been arrested in connection to a toxic liquor case, which left 11 people dead and 50 hospitalized in Guangzhou, capital of Guangdong Province, local police said on Friday.
The six are among 19 suspects who detained and four other suspects are still at large, said Liang Xingxia, deputy head of the Guangzhou Public Security Bureau.
Among the six, four are distillery runners and two are methanol sellers.
The first toxic alcohol death was reported on May 11 in the Baiyun District of the city. A total of 443.75 kilograms of distilled toxic spirit has been confiscated so far.
Guangdong has launched an emergent inspection on bulk liquor, covering all alcohol distillers in the province.
Inspection on the qualifications of all alcohol sellers in the province has also been strengthened.
To prevent fake liquor from entering the market, all alcohol sellers are prohibited from buying liquor from producers without an operating license and quality certificate.
In a separate case, fake powered milk caused 12 deaths of babies from malnutrition in Fuyang in east China's Anhui Province last month. The case sounded an alarm for food safety supervision agencies.
An overall examination of enterprises that produce and sell children's food will be carried out in the country and a strict system of market access for children's food will be established, said the document.
In the meantime, a food safety monitoring network should be set up in rural areas to ensure farmers' food safety.
(China Daily May 22, 2004)