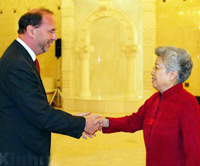 UN AIDS Executive Director Peter Piot has praised China for its renewed efforts to contain the AIDS epidemic. But he is also warning the government to ensure that prevention programs are properly implemented to prevent a major epidemic.
Piot is in China for talks with top level health officials on the nation's AIDS problem. During an interview, he said China has made a "sea change" in its efforts to combat AIDS.
Piot said, "There has been a true sea-change in how China is confronting AIDS. The central government has issued policies which are really the right ones, we know that they work, there is a recognition that AIDS in China is a time-bomb, but that is ticking, but that China can really avert a major epidemic by acting now, particularly on the prevention front and we really welcome that. I think it's a good example of strong leadership."
Piot also warned that nothing short of a mass campaign will help prevent a new wave of infection. And he suggested more radical measures be taken to curb the epidemic.
"I think the two biggest challenges that the leadership is facing now is one, breaking the silence round AIDS throughout society in China. Secondly, it's to make sure that all the right policies that have been decided upon, that they are being implemented in every corner in China, at every level," Piot added.
China has launched a number of measures to curb AIDS, such as education programs to raise public awareness, and campaigns promoting the use of condoms.
It is estimated that China has more than 800,000 people living with AIDS/HIV.
Wu Yi: China to enhance int'l cooperation on AIDS
Chinese Vice-Premier Wu Yi said Monday that China will enhance international cooperation on the prevention and treatment of AIDS to protect the health and lives of Chinese people.
Wu made the remark when meeting with Peter Piot.
She said the Chinese government has always attached great importance to the cooperation with UNAIDS and China hopes the spread of AIDS in the world will be effectively contained with the active efforts of UNAIDS.
Wu also briefed Piot on China's anti-AIDS efforts and the challenges the country faces in curbing AIDS.
She said the Chinese government will continue making active efforts in supporting UNAIDS' global anti-AIDS strategy and improve international exchange and cooperation to curb the spread of AIDS in China and protect the health and life security of the general public.
Piot said he appreciated the Chinese government's attitude and efforts in fighting against AIDS and UNAIDS will, as always, give its full support to China's efforts in the prevention and treatment of AIDS.
(CCTV & Xinhua News Agency May 25, 2004)