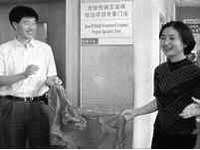 An outpatient service for dermatosis and AIDS has been launched at the Shenzhen Hospital for Prevention and Treatment of Chronic Diseases in south China's Guangdong Province.
It is considered the first outpatient service for AIDS in the Chinese mainland.
Zhou Hua, deputy head of the hospital, said they would offer patients consultation, testing, treatment on AIDS, as well as care and intervention they need via the newly launched outpatient service.
"We keep dermatosis in the name of the outpatient service with the hope of better protecting the privacy of patients, or they might have a feeling of being isolated," said Zhou.
According to Zhou, his hospital also houses the Shenzhen City Center for Prevention and Treatment of Sexually Transmitted Diseases (STD) which is responsible for affairs ranging from prevention and treatment, control, scientific research and monitoring of STD and AIDS in the city.
Zhou believed the new service would also serve as a clinical platform for execution of diverse programs designed to prevent and treat AIDS inside the hospital.
A total of 15 HIV patients were found via the center's former outpatient service on dermatosis, of which, 11 HIV cases were discovered in the first five months of the year, and 555 were found out of some 120,000 pregnant women to suffer from syphilis.
Zhou added they were inviting personnel who would soon be formed into a special public health nursing team designed to teach local workers in the entertainment sector prevention methods against STD or AIDS.
(Xinhua News Agency June 1, 2004)