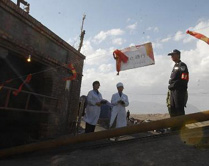 All 34 miners who had been trapped by flooding beneath the shaft in a local coalmine in Jingyuan of northwest China's Gansu Province returned alive to the ground early Tuesday.
According to local sources, flooding took place at one passage for ventilation in Honghui No.4 Coalmine under Jingyuan Mining Industry Corporation around 8 pm on Monday, endangering the lives of the 34 miners who were working there at the time.
The miners eventually escaped the flooding site and made their way out from a passage of an adjacent pit at 0:45 am on Monday, said Chang Qing, deputy head of the General Affairs Office with Jingyuan Mining Industry Corporation.
The miners are all in good health and have now returned their own homes for rest, according to Chang.
Cause of the flooding is under investigation.
(Xinhua News Agency June 8, 2004)