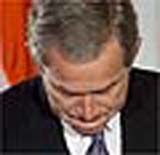 The United States marked the three-month anniversary of September 11 terrorist attacks on Tuesday with the American national anthem playing at the White House and across the country.
President George W. Bush, who led the commemoration, said America does not need monuments and memorials to grieve the deaths of more than 3,000 people killed in the terrorist attacks.
"For those of us who lived through these events, the only marker we'll ever need is the tick of a clock on the 46th minute on the 8th hour of the 11th day," Bush said.
"We'll remember where we were and how we felt. We'll remember the dead and what we owe them. We'll remember what we lost and what we found."
Bush has asked the United Nations, the international community and US installations abroad to hold events to mark the three months since the hijacked planes hit the World Trade Center in New York and the Pentagon, the fourth crashed in rural Pennsylvania.
Bush is expected to visit the Citadel, the state military college in Charleston, South Carolina, later on Tuesday to deliver a speech. He is to outline his views on the new demands for the military and intelligence gathering in the war on terrorism, and offer a vision of how the new coalition could change the global landscape.
In New York City, firefighters and construction workers stopped work to observe a moment of silence at 8:46 a.m. local time (1346 GMT) at ground zero.
The astronauts aboard space shuttle Endeavor and the international space station also joined the commemoration.
"In stark contrast to the international cooperation and unity in our efforts to take mankind literally to the stars, we're reminded of our loss and sorrow due to the acts of violence and terror in an unprecedented attack on freedom, democracy and civilization itself," flight director Wayne Hale said In Houston, Texas.
According to the White House, events were scheduled in more than 80 countries in part to remind the world that people from more than 80 countries died in the attacks and to reinforce Bush's global anti-terror coalition.
(People's Daily December 12, 2001)