As in many other markets, Seattle-based Starbucks is the industry Goliath who claims to be the first to introduce the so-called "coffee culture" to fashionable crowds in major Chinese cities.
Now, Starbucks' dominance is under challenge by many new comers, including Blenz Coffee from Vancouver, McCafe, an up-market coffee shop from fast food king McDonalds and a host of other foreign and domestic coffee houses.

Those who used to complain it was impossible to get a cup of good coffee anywhere in China may soon be spoiled by the number of coffee choices.

Just take a look at Oriental Plaza in Beijing.

The premium shopping center is home to three Starbucks Coffee shops, one Blenz Coffee store, one McCafe outlet, and a slew of Hong Kong-style bistros serving coffee alongside Chinese and Western dishes.

The chic shopping boulevard itself is a small-scale breakneck competition for coffee makers.

Starbucks Coffee used to fight face to face with Danesi Caffe on the ground floor of Oriental Plaza. But the Italian coffee shop disappeared last summer. Now exhausted shoppers, looking for a comfortable couch to have a rest, just stride directly into Starbucks without thinking of a second choice.

"I hope in China, when people think of coffee, Starbucks jumps into their mind first," said Charles C. Wang, acting president of Beijing Mei Da Coffee Co Ltd. Mei Da is Starbucks' authorized developer in northern China.

"Up till now we haven't seen large rivals who can compete with Starbucks at the same level," Wang said.

"But I'm sure there will be challengers in the near future as more and more coffee brands come to grab a share of the Chinese market."

The Chinese coffee market is expected to grow by 70 percent in total sales volume between 2003 and 2008 to reach 11,073 tons, Euromonitor's findings indicate.

Bai Ning is one of those who are ready to challenge Starbucks.

"In Vancouver, if Starbucks is at this corner of the street, we are at the other corner. It doesn't matter. Both brands survive. I don't see why that cannot happen in China as well," said Bai, president of China Coffee Holdings Co, Blenz Coffee's authorized licensee in China.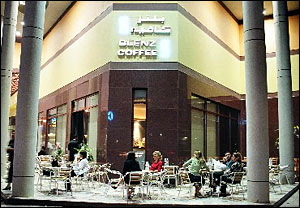 The returnee from Canada was wowed by Starbucks' popularity in China when he was back visiting Beijing a few years ago.

"That is exactly what I was looking for," Bai said.

Bai opened the first Blenz Coffee store in China at Oriental Plaza in July 2003.

There are now 18 Blenz outlets in China, five of which are in the capital city.

The Canadian coffee maker is expected to open an outlet at the Beijing Capital International Airport in March.

"We also plan to open a coffee shop in the Poly Theatre so audiences can enjoy a cup of tasty coffee during the intermissions of each performance," Bai said.

But compared with the coffee shop network woven by Starbucks, Blenz is still in the fledging stage and is fighting an uphill battle.

Starbucks' trademark of a green and white mermaid has been featured in more than 110 outlets in China, most of which are in Beijing and Shanghai, since it entered the country in 1999.

The Seattle-based coffee giant has opened two stores at the Beijing airport and will eventually have four in total.

Mei Da's sales revenues exceeded 100 million yuan (US$12 million) in 2004, a year-on-year growth of 35 per cent, according to Wang. And that is just what the northern China market is brewing.
The annual sales revenues of Blenz in China stand at about 20 million yuan (US$2.4 million), according to Bai.

"Our biggest challenge right now is that we don't have that much capital," Bai said.

"Starbucks (in North China) introduces venture capital. It has the money to secure the best locations to open its own corporate stores. A good location makes it easier for you to succeed."

Mei Da is 90-percent owned by a Hong Kong-based firm, of which H&Q Asia Pacific controls 77 per cent. H&Q Asia Pacific is one of the largest venture capital companies in the Asia-Pacific region.

Unlike Starbucks' "no franchising" strategy, Bai's tactic is to expand Blenz' network through franchising.
Blenz has percolated into in-land Chinese cities such as Chongqing Municipality in southwest China; Shenyang, in northeast China's Liaoning Province; and second-tier cities such as Dongguan in south China's Guangdong Province.

"Every city definitely has the market for one shop or two no matter how small they are," Bai said.

Starbucks is considering opening outlets in some inland capital cities, Wang said.

"But we will seriously consider the economic conditions and local people's consumption power in those cities," Wang said.

"Running a Starbucks coffee shop in a city without good economic conditions and relatively high consumption power is very difficult. Poor business operation will tarnish the brand image of Starbucks," Wang added.

Just coffee?

To most Chinese people, who grow up in a tea-drinking culture, coffee is still a nouveau fashion statement. Although China has a quarter of the world's population, it consumes less than 1 percent of the world's coffee.

"Coffee is just an excuse for people to come to our store," Bai said.

"Nowadays people get together more often. They need places where they can chat or just relax."

That is also why Starbucks has been promoting the idea of "the third place."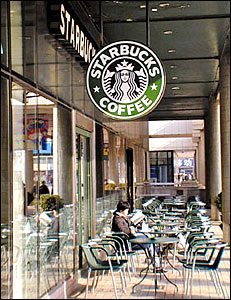 "We hope people will come to our store if they think it is inappropriate to have a talk at home or in the office," Wang said.

The cozy wood-paneled dcor, Western music and ground coffee aroma are appealing to many Chinese, who are looking for venues for intimate dates, business meetings - or just relaxing with a good book.

Blenz differentiates itself from Starbucks by allowing consumers to smoke and have more choices of tea, which is obviously against Starbucks style.

Blenz also plans to invade into the territory of teahouses that are usually located in residential neighborhoods.

"We will look at those areas where people lack a particular place to meet with one another. If we just concentrate on large and expensive office buildings and shopping malls, we don't have much room to grow, " Bai said.

While these Western coffee brands continued fighting neck and neck, Zheng Yan quietly opened her first cafe at the Asian Games Village in November 2004.

Her store, named Flower House, offers both tea and coffee as well as kungpao chicken and beef steak.

"If our customers get hungry when chatting here, isn't it great to have a good selection of tasty dishes for them?" Zheng asked.

Flower House's daily sales were 6,000 yuan (US$726) in its first three months. Coffee accounts for 60 per cent of the sales.

Sitting in a red couch, with Chinese silk gauze hanging behind her, Zheng categorized her cafe as "fashionable and cozy", neither Western nor Chinese.

The 25-year-old woman is now busy looking for a location for her second and third cafes.
(China Daily January 28, 2005)