75 Percent of Chinese Against Airfare Hike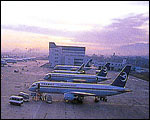 A 15 percent hike in ticket prices on domestic airlines has urban Chinese up in arms. The hike was enacted in response to high fuel prices.
The China Economy Monitoring and Forecasting Center, an affiliate of the National Bureau of Statistics (NBS), and China Central Television's "Economy 30'" program surveyed more than 900 residents of Beijing, Shanghai and Guangzhou about the airfare hike. Fifty-three percent of those surveyed thought that prior to the hike airfares were basically acceptable; 45 percent thought they were high; and only 1.1 percent thought they were low.
Of those surveyed, 74.6 percent were against the price hike. They opined that airline companies should cut operating costs through restructuring and improving management instead of transferring their burden to passengers. They blamed the airlines' own unreasonable internal structure for their recent losses.
Only 10.7 percent of those surveyed said they would choose to travel by plane in their personal travels after the price hike. Fifty-eight percent would choose trains, and 30.4 percent responded that their choice would depend on the circumstances.
(People' Daily 12/14/2000)