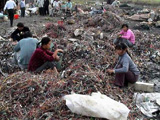 Fly-by-night trash collectors in Shanghai, most of whom are migrant workers, are being offered similar jobs by the Shanghai Public Sanitation Bureau as it bids to regulate local garbage collection practices.
Wearing uniforms marked with their names, about 650 migrants who used to roam around the city to collect garbage are now employed as wastebin keepers in more than 30 residential areas of Huangpu District, which initiated the project.
Their job include sorting out all recyclable wastes in the bin, such as newspapers and plastic bottles, as well as being responsible for the sanitary condition around the trash can.
According to the bureau, each garbage bin keeper will be paid 300 yuan (US$36) per month by the local neighborhood committee, while those working at recycling centers will get 500 yuan (US$60.48).
Trash can keepers are also allowed to sell the sorted out recyclable waste to increase their income, officials added.
"With these keepers, fly-by-night garbage collectors will not be able randomly search the trash cans, thus sanitary condition near the bins will greatly improve," Zhao Weiguang, a public sanitation official, said yesterday.
With the number of fly-by-night operators in the city increasing in recent years, this large unemployed group posed a big threat to the city's public security. Providing jobs to them will help ease the problem, Zhao added.
If the project goes well, a total of 15,000 jobs will be created, the sanitation bureau estimated.
"I'm now quite satisfied with my new job," said a migrant trash bin keeper named Wu, who claims that his current 800-yuan (US$96.77) monthly income (which includes salary and income from sel-ling recyclable waste) is about the same as before but more steady than when he was a straggling garbage collector.
(eastday.com July 23, 2003)