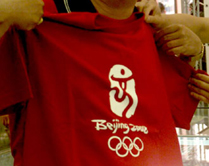 The Olympics logo is not only the emblem of the 2008 Olympic games, it also presents a huge marketing opportunity for the city of Beijing.
The official logo was selected out of nearly 2,000 submissions by Chinese and foreign designers in a competition last year.
The International Olympic Committee gave its approval to the chosen emblem in March. However, the unveiling of the emblem, which was originally scheduled for May, was postponed due to the SARS outbreak.
Beijing organizers say the unveiling of the logo plays an important role in presenting the Beijing games to the world. What's more, it is key to the success of the Olympic marketing program.
"The emblem is the first element. It's key to the marketing program, by which sponsors will associate themselves with the Beijing Games," said Sun Weijia from Beijing Organizing Committee for the 2000 Olympic Games.
The Beijing 2008 Olympics organizers plan to initiate their marketing campaign in September, when they will authorize the production and marketing of all kinds of logo based souvenirs and kick off talks with sponsors for the Games.
The organizers say the Olympic emblem is not only a key element in attracting sponsorship, but also a crucial issue that determines how the event will be remembered long afterwards.
(CCTV.com August 4, 2003)