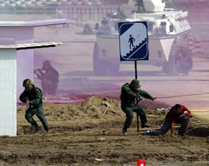 China's armed police held an anti-terrorism exercise on the southern outskirts of Beijing Monday morning.
A total of 1,500 armed police officers and soldiers participated in the drill, which started at 8:30 a.m. and lasted for two hours. State-of-the-art equipment -- including armored anti-riot vehicles, hydraulic wall-breaking devices, treetop reconnaissance and attack aircraft, and the computerized battle simulation systems -- was employed in the drill.
The special task force of the armed police was given an opportunity to demonstrate their skills in hand-to-hand combat, shooting, climbing, bomb defusion and reconnaissance, but the key aims of the drill were to protect "a VIP target" from an attack by gunmen and to rescue a large group of hostages from terrorists.
It took just 20 minutes for the armed police to infiltrate into a "cinema under the terrorist control", take out all "hostile targets" and save nearly 1,000 "hostages" without any casualties.
Since the September 11 terrorist attacks on the United States in 2001, the Chinese government has increased its anti-terrorism capabilities, while the Chinese army and armed police have taken high responsibility for protecting leading targets, fighting terrorism and coping with other major contingencies.
Monday's drill was the first test of the armed police's capability to handle emergencies and combat terrorism. A senior police officer said that the exercise was based on the Moscow theater hostage crisis that occurred in late October of 2002 and terrorist attacks in southeast Asia earlier this year.
The police officer also noted that in the past couple of years, the armed police force had spent billions of yuan upgrading anti-terrorism equipment and command and control systems, and had formed quick reaction forces such as the special task force, bomb squads and helicopter squads.
"With the introduction of a large amount of new equipment and new anti-terrorism tactics, the anti-terrorism capabilities of the Chinese armed police force has improved remarkably," said the senior armed police officer who oversaw the exercise. "The armed police and army are ready to meting out heavy blows at any emergency under any conditions resolutely and effectively, to safeguard social stability and the safety of the people's lives and property."
(Xinhua News Agency August 11, 2003)