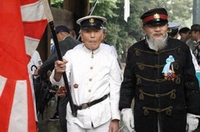 Foreign Ministry spokesman Kong Quan reiterated on Friday that it is in
Japan
's own interests to express remorse for its militarist past.
Kong was responding to Friday's visit by some senior Japanese officials to the Yasukuni Shrine on the anniversary of Japan's defeat in World War II.
The war of aggression started by the Japanese militarism caused unprecedented severe disasters in China and other Asian countries, said Kong, adding the Japanese people also suffered from it.
"A correct attitude towards history will be conducive to the sound and steady development of the Sino-Japanese good-neighborly relations as well as to Japan's harmonious co-existence with its neighbors," said Kong, adding that it ultimately serves the interests of Japan itself.
The Yasukuni Shrine, located in the suburbs of Tokyo, was built to honor dead Japanese soldiers. Among those honored were 14 Class-A Japanese war criminals from World War II.
Among those who visited the Yasukuni Shrine were Yoshitada Konoike, minister in charge of disaster prevention, Agriculture, Forestry and Fisheries Minister Yoshiyuki Kamei, Economy, Trade and Industry Minister Takeo Hiranuma, and National Public Safety Commission Chairman Sadakazu Tanigaki. Fifty-five members of parliament also paid tribute to the shrine.
Japanese Prime Minister Junichiro Koizumi did not go to the shrine on Friday. According to Kyodo News, Koizumi, who visited the shrine on January 14, has no plan to do so again this year. Koizumi has visited the shrine three times since he took office in 2001.
Also on Friday, Koizumi expressed his resolve to help secure world peace, while expressing remorse for Japan's wartime aggression at a memorial ceremony marking the 58th anniversary of the end of World War II, according to a Xinhua News Agency report.
(China Daily August 16, 2003)