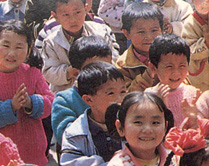 More boys than girls are born in China, and the gender ratio imbalance has become so serious that many delegates to the Chinese Women's Ninth National Congress showed great concern over the problem.
The gender imbalance has become one of the most serious problems in the Chinese rural area, said Vice Minister Pan Guiyu, in charge of the State Commission for Population and Family Planning, at the ongoing congress.
For every 100 girls born in China, about 16 more newborn boys came into the world, according to national census statistics in 2000. In other countries, usually only five to seven more boys are born.
Although the Chinese government has banned gender selection of newborn babies by ultrasound and selective induced abortion, many doctors secretly provide such services for extra fees, sometimes as high as 1,000 yuan (US$120).
It is difficult to know the truth because pregnant women could choose to ask for the services and then lie about it afterwards, said Zhang Shufang, a congress delegate from Heibei province.
The traditional Chinese thinking that men are more valuable than women dominated the country for many centuries. Some rural people just dumped female infants outside orphanages, Pan said.
She said 99 percent of Chinese children adopted by foreigners are girls, and boys under the age of ten number in their millions more than girls the same age.
The legal land rights and interests of rural women could not be safeguarded in some areas, said Wang Qiongzhu, a delegate from Hainan Province, noting that this contributed to the gender imbalance.
(Xinhua News Agency August 25, 2003)