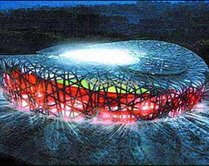 Beijing organizers told an International Olympic Committee (IOC) working group that the city's preparations for the 2008 games are going ahead smoothly.
Liu Jingmin, executive vice-president of the Beijing Organizing Committee (BOCOG), said its preparations for the games were well underway since the first meeting of IOC Co-ordination Commission last year.
"Beijing has unveiled the 2008 Olympic Games logo and launched a marketing plan. The construction of sports complex and the athletes' village, cultural and other preparations are already under way," said Liu during yesterday's talks with the IOC working group.
The IOC delegation, composed of IOC Co-ordination Commission members, began their three-day meeting with BOCOG on Tuesday, aiming to share experiences on how to stage the largest sporting event successfully.
As for the construction of the venues, Liu said the four sports complex, including the National Stadium, the National Swimming Centre, Beijing Shooting Range and Laoshan Cycling Centre will begin by the end of this year. Ten more venues will be added to the list next year, including the National Gymnasium and the National Tennis Centre.
BOCOG has taken a series of measures to enhance its efficiency and transparency. BOCOG will set up three more departments, including security, medical care and culture by the end of the year.
(Xinhua News Agency September 4, 2003)