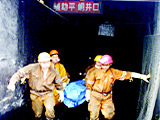 As of 5:06 pm Wednesday, three bodies had been retrieved from the pit of Sangshuping Coal Mine where 15 miners are believed to have died in a flooding accident on Sept. 11.
Last Thursday evening, the accident occurred at the mine in Hancheng City, northwest China's Shaanxi Province, when 24 miners were working below ground.
Only nine of them were rescued and the others were trapped.
After the accident, seven pumps were set up at the mine entrance to remove water. By 5 pm Wednesday, 66,200 cubic meters of water had been pumped out.
An accident investigation group was formed by nine relevant departments, including Shaanxi Provincial Administration for Supervision of Industrial Safety.
Since the accident, 15 other small coal mines nearby have suspended production until safety checks are completed.
(Xinhua News Agency September 17, 2003)