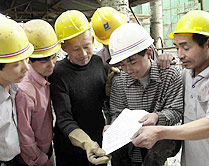 In a brick shack on Beijing's eastern outskirts, 43-year-old Xue Zhanliang carefully signs his name on a document, formally becoming a member of the All-China Federation of Trade Unions (ACFTU).
Like Xue, thousands of migrant workers have joined ACFTU-affiliated trade unions across the country. However some of them never signed the membership forms, and joined with a simple spoken "Yes".
Unions are having to resort to such practices as so many migrant workers are scattered around the country.
The ACFTU announced in an Aug. 9 circular that it would recruit as many migrant workers as possible and categorize them as members of China's working classes.
In the month after, more than 34 million migrant workers joined trade unions in thousands of local cities and townships.
For a long time, China's trade unions would only embrace and fight for workers with city or township resident identification and more than 100 million migrant workers working there were snubbed simply because of their rural household registrations.
The emergence of the huge migrant worker army since 1980s has literally broken China's traditional worker-farmer social divide and grown into a new force who labor in both urban and rural areas.
Their access to trade unions is a sign that China is reconsidering social structure change.
"The major part of migrant workers' income has altered to salaries, so they are members of the country's working classes," said Guo Wencai, a trade union official with the ACFTU.
But the changes are not without teething problems. The biggest headache is financing resources for the new trade unions.
Migrant workers work mainly in low-profit and low-pay sectors such as construction, catering and environmental cleaning. So it's hard for employers to split the legally-set sum of 2 percent of the total salary for the trade union.
Lack of trade union knowledge among migrant workers is another major hurdle against the installation of the unions. Born and growing up in the countryside, most of them had little chance to learn about trade unions, and as a result, many will not spend their hard-earned money on union fees.
"Both the government, enterprises and migrant workers should greatly improve their awareness of the significance of trade unions. The pity is that some still lag behind," said Yuan Xuzhong,an official with Beijing Municipality's General Trade Union.
Nevertheless, some migrant workers have benefited from the union's help.
"Through the trade union, we can bargain directly with the boss and fight for our legal interests, that was really difficult in the past," said Xue. In sharp comparison with his colleagues outside the trade union umbrella, Xue can collect his salary on time.
His trade union even pressured his employer to prepay his children's school fees.
"It's really good with a trade union. I will never hesitate if they ask me for the membership fee," said Xue, who can earn about 1,000 yuan (US$125) a month on a construction site.
Xue's trade union also persuaded the employer to buy cards and Chinese chess for their leisure time. "We can relax a little after a hard working day," said Xue.
But the country has not yet set a unified membership fee standard for migrant workers.
"Given the complicated reality, my suggestion is that enterprises at all levels shoulder the financing according to contract value, project value or personnel they employ," said Na, also an official with the Beijing trade union.
(Xinhua News Agency September 21, 2003)