Tao Zhi Yao Yao, or Peach Flower in Blossom is written by Shanghai woman writer Wang Anyi and was published by Shanghai People's Fine Art Publishing House last December. The story is set in Shanghai in the mid 20th century, when the country was ravaged by political turmoil. An illegitimate girl is born into the busy alleyways, where she faces suspicion and gossip. But she grows up happy no matter what.

"The title comes from the Book of Odes, which is the oldest collection of Chinese poetry. This short line is talking about a girl getting married. My story is based on this meaning. To a woman, marriage is always of great importance, whatever the times are."

"Her elder sister's clothes always seem gaudy on her. She's a mess, quite vulgar looking really. She likes to throw out her chest when walking, with her buttocks stretching up. She slinks around on her toes. She is better built than her elder sister, so all the clothes are a bit too small for her. The short skirt is about 10 centimeters above her knees; the full skirt pops up like an umbrella, and her jacket flies off her waist. Luckily she hasn't hit adolescence, she still looks like a child, or else, the get-up of her may be suspected of being flirty."

Yu Xiaoqiu is the heroine of the story, her mother used to be a folk opera

singer, who had a failed marriage. Her elder sister is cool towards her. Her best female friend cut off from her for fear that she would grab the heart of her brother… The simple girl's life is interwoven with complicated relationships with the various women around her.

"I find writing about woman comes easy to me, being a woman myself! Writing is about reflection of sentiment, and women's sentiment is more complex than that of men. Unlike men who tend to be more socialized, women always keep their natural temperament, their capacity of love and various sentiments is especially big."

"As she gradually enters adolescence, the hormones start to flow, and her face shows up different looks. Sometimes, it would be enveloped in haze and suddenly darken. Then the face texture becomes prominent. The already complicated lines of her facial features, now seem to be out of order. In the shadow of the gloomy complexion, her brown pupils lose their light. At this time, she is ugly and vulgar, -- and that usually leads to a flurry of discussion. The discussions are gloomy, too, as if they are wondering what secret diseases could be reflected in that complexion and what is the connection with the indecent behavior. People are asking in a strange manner how come a little girl could have such a complexion. Basically, this complexion is more or less similar to a haggard woman who's been troubled by sexual desire.

Shanghai, the cosmopolitan city, again, becomes the background of the whole story. But the writer's pen is on the crowded alleys and the alley cats who live there. Growing up in the alleys herself, Wang Anyi is familiar with all the trivial things happening there and the ordinary people's lives.

"I think the alley-cats in Shanghai have their own power. It's not from any kind of belief, it's a simple, and sometimes short-sighted, demand for life, and the desire to satisfy themselves within this limit. This group are conservative and they have their moral standards, but at the same time, they are tolerant, and this allows the girl to live."

"This is the first row of houses in the backyard alley, the ground floor are shops or workshops. Looking from the backdoor, you can see the store front. This made the children feel complacent as it seems as if they could spy on some kind of private world. From the front, these booths are nothing special, simply selling shoes, small commodities and cloth, but at the back, they are one and anther family. Each family has their own rules and their own ways of dealing with things. It's absolutely true: people walking out from the same store are similar. Those from the straw mat store all speak Ningbo dialect, the saleswomen are all bold and vigorous, with pale and clean faces. People from leather shoe stores are more modern, and their saleswomen have curled hair. The little girl walks from this store to another and the salespeople have long known about her. This is one of the reasons that they allow her to come so frequently: people are fond of listening to legends."

"You could find plenty of girls like her in Shanghai. They were born to ordinary families in the alleyways. Now these families are not poor, but by no means wealthy, they belong to the alley cat class, their lives are conservative, but at the same time, quite open."

Wang Anyi's writings are always wordy, and may seem long-winded at times, but that's what makes up her style: there's no special person, no special surroundings and little material. There's nothing unique.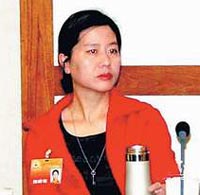 "I believe my narration is attractive, and I know my words can satisfy people in their reading. I always work on putting the colloquial things into words, but they must be elegant. "

"The next day, Yu Xiaoqiu went to her brother-in-law's and sent over the dairy products and children's clothes. When she approaches the baby, the boy seems to be seeing an acquaintance, and cuddles up to her chest. Yu Xiaoqiu feels a gush of warmth in her heart. Still a soft ball of flesh, the lines of the facial features can be made out, apparently, a human being, with consciousness, she holds him tight. After that, everyday after dinner, she goes over to hold the baby and helps to relieve the old couple for a while. The old couple are both over 60, and are not suited to looking after a child, but they insisted not hiring a baby-sitter, because they don't want others to share such intimacy. Thus, Yu Xiaoqiu became the only one that could help. Every time she goes, without pausing for a rest, she hurriedly washes a full basin of diapers and airs them outside. If it is a rainy day, she will iron the half-dried diapers and fold them up."

"I appreciate the girl I created; she is somehow above the alley-cat level and against their power. Unconsciously, people may not realize how much power and strength they have, she is always frank and natural, and I call her a flower in the alley-cat stratum."

When the girls in the neighborhood have all gotten married and had babies, only she remains single. When her girlfriends come back, they will sigh sometimes, "at that time, you were the most…" the most what, they don't go on, but everybody knows. Anyway, they all think she shouldn't be single. But it is nothing, her family members seem to be destined to be single: her mother is single, her elder brother was jailed before the wedding; her elder sister got married, but died young, and now it's time for her brother-in-law to be single. She scarcely experienced any happiness from her childhood, but it didn't stop her from growing up happily. The relationship with He Minwei could be called happy, and she feels excited when recollecting some of the old times. Although there is no result, she feels contented; she already feels she is much better than the ones around her. She is like the grass living in the cracks of stones, crowded, with little nutrients, but it can squeeze out and grow bigger, and sometimes, it could even blossom, with little yellow or purple flowers."

(CRI January 14, 2005)