Hou Hsiao-Hsien

Name: Hou Hsiao-hsien
Name (pinyin): Hou, Xiao Xian
Origin: Meixian Guangdong
Birthday: Sep 8th, 1946

In the 1980s, Jim Jarmusch and Spike Lee began revitalizing the American independent film, the popularity of which had waned considerably since John Cassavetes' days. In the 1990s, Quentin Tarantino, Steven Soderbergh, and Richard Linklater sent indie films into major vogue. These more marketable English-language films began taking over art house screens and driving out subtitled foreign fare. In the era of the blockbuster mentality, distributors became more reluctant to pick up challenging pictures, the vast majority of which came from overseas. The state of foreign film distribution has gotten to the point where Cannes Palme d'Or winners like Underground, Eternity and a Day, and Rosetta are lucky to be released, and even they found only a handful of screens on which to play. Recently, more demanding foreign films have seen the light of day only in film festivals or museum venues. Such has been the lot of the films of Hou Hsiao-Hsien.

Hou, based in Taiwan, is one of the most acclaimed directors of the past two decades by film buffs and critics alike. Hou's films are difficult, and no one is going to suggest that his films will make big bucks, but mass appeal should not be a determinant of aesthetic judgment. That not a single film of Hou's has seen commercial U.S. distribution is a major artistic injustice. In 1999, New York's Film Society of Lincoln Center put together a complete retrospective of his work to enormous success. Now, New York's Screening Room is bringing back seven of Hou's films, affording another chance to see these otherwise nigh impossible to find pictures.

Hou has been tagged as a member of the "master shot" school of filmmaking, for which

his compatriots, Edward Yang and Tsai Ming-liang, are also noted. Ordinarily, a filmmaker shoots the master shot chronologically first, from a distance. The master shot displays all the spatial logistics of a scene. Once that is clear, the director moves the camera in closer to its subjects as the scene builds in intensity, often to the point of a close-up. Later during editing, the scene can be cut between the master shot and the more forceful medium and close-up shots. Hou almost never engages in this latter aspect of standard film technique. A movie composed mostly of long shots, especially extended takes as is usual for Hou, tends to keep the audience emotionally distanced from the characters and the action. As a result, Hou's films are criticized as boring, and sometimes they are. But at his best, Hou can provoke overwhelmingly intense emotions precisely because the viewer has worked to earn it. Hou Hsiao-Hsien films offer a generous store of images and feelings that lavishly reward time and patience.

Hou's films have always displayed some element of the master-shot style, but this is less true of his earlier films. While he still composed mostly long shots, he put a lot more cuts into his scenes then. As his career progressed, his formalism and minimalism increased until his latest film, Flowers of Shanghai, has virtually no cuts in the middle of scenes. The camera simply pans to whoever is speaking.

His characters engage in a lot of activity on screen, but their actions are so mundane - eating, reading, cleaning the floor, washing the dishes - that they barely register. They are unusual in terms of movie actions, whereas chasing a car or shooting a gun is actually more conventional (given the pervasiveness of Hollywood movies, this perception is as true in the East as in the West). His characters frequently talk about other people - friends, family, neighbors - who never appear on screen. Yet these people provide the sense of a much greater world beyond the horizon of the story, whatever story there is.

Hou has little concern for an overarching plot with clearly elucidated goals. His movies are about everyday life, its rhythms, its crests and valleys, how his characters cope. The emphasis on the common and ordinary can create difficulty for the viewer to parse out what is relevant to follow and what is not, and so attention must be paid to everything. These films offer something more profound than mere story: an understanding of a way of life. So of course, Hou's premise is that everything, after all, is relevant.

A Time to Live and A Time to Die (1985) is Hou's earliest film in The Screening Room series. Despite being the stylistically roughest, Hou's obvious affection for the autobiographical content makes it his masterpiece. This is the closest Hou gets to early Vittorio De Sica, whose neorealism informs many of his own early pictures. Time tells the story of Ah-Hsiao (nicknamed Ah-ha) and his family, which, beyond his parents, includes his oldest sister, numerous brothers, and Grandma. As the title indicates, the film is about the passing of a generation. These are not great, rich, or famous people, but by film's end, they represent the extraordinary in the ordinary, made all the more poignant by Ah-ha's obliviousness to it all. Hou, now older and wiser than his fictive self, pays tribute to what everyone goes through in life - pleasure, pain, absurdity - but can only treasure in hindsight, and he does it without sentimentality.

In Dust in the Wind (1987), youthful Wan and his girlfriend, Huen, quit their jobs in their small mining town and move to Taipei to find work. Wan becomes a delivery boy while Huen assists a seamstress. Wan is a little too proud for his own good, but is earnest in taking care of the introverted Huen. As usual, Hou collaborated with Chu T'ien-wen, who has written or co-written all of Hou's films, to give Dust in the Wind marvelously vivid details. Upon first moving to Taipei, Huen asks Wan what he thinks about various shoes in a store. After selecting a pair they both like, Wan finds that Huen is not asking for herself but for her family. She pulls out pieces of paper with the outlines of her family's feet traced on them so she can buy them the right size shoes. Dust in the Wind is filled with such vignettes depicting the struggles as well as the savored moments of everyday life in Taiwan. The film never romanticizes though it is filled with beauty, even of the ugly sort. Many images - the characters marching up to their hillside home next to a mountain cast in the shadows of passing clouds; a Buddhist ritual in front of a raging ocean; soldiers silhouetted against an overcast sky - are breathtaking.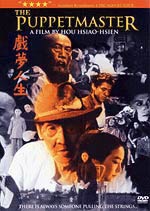 The Puppetmaster (1993) shows markedly the ever increasing formalism in Hou's style. The camera moves less and its framing feels more deliberately arty. The subject is real-life puppeteer Li Tien-lu, who played small roles in Dust in the Wind and City of Sadness. The film follows his career from childhood apprenticeship to the creation of his own troupe to his forced labor in the Puppet Propaganda Group under Japanese control during World War II. Li Tien-lu provides his own narration and also appears as his own modern-day 84-year old self to tell his story. Despite the scope of covering Japanese-occupied Taiwan over numerous decades, Hou pursues and achieves intimate personal moments in the characters' lives, not epic sweep.

In a rare departure from his usual period pieces, Hou sets at least a good portion of Good Men, Good Women (1995) in present day Taipei. Actress Liang Ching has had her diary stolen, and the mysterious man in possession keeps faxing her pages from it. Simultaneously, she is rehearsing for a movie called Good Men, Good Women, about Chung Hao-tung and Chiang Bi-yu, two idealistic Taiwanese who went to China to fight the Japanese and later returned to Taiwan as Marxist revolutionaries. Liang Ching strongly identifies with her character of Chiang Bi-yu, and Hou visualizes her imaginings of the movie story (in black and white) while imbuing it with her own memories enhanced by her diary faxes. Good Men, Good Women is perhaps Hou's most staid film, but again, the mastery of his meticulous style cannot be denied.

With Goodbye, South, Goodbye (1996), Hou finally sets an entire movie in present day, but he is so concerned with maintaining the tortoise-crawl pacing and his rigorous, though admittedly stunning, aesthetic approach that he bleeds out even the most cursory drama. Recalling the dynamics of Martin Scorsese's Mean Streets, Goodbye presents two petty gangster brothers, level-headed Gao and hot-headed Flatty, the problems they have with their girlfriends and the complications that arise from their criminal dealings. The use of colored filters, stilted dialogue, and some enormously long takes veer the film over the edge into pretension and indulgence. Still, some incredible vehicle-dolly shots - following a car through the rain and motorcycles through a forested road - almost make the whole movie worth it.

Flowers of Shanghai (1998) is about the struggles of "flower girls" in a 19th century Shanghai brothel. Hou uses colors as never before, and it might be his most exquisitely shot film. Like Goodbye South, Goodbye however, it ultimately adds up to less than the sum of its parts. Tony Leung in his second Hou film portrays a client, Wang Liansheng, who stands apart from the other patrons in his initial sensitivity to the women. Hou goes from flower girl to flower girl investigating the constant fighting among them over their perceived hierarchy and often petty jealousies. While Hou draws the picture of a vivid, miniature community, he is uneven in making each woman's storyline interesting.

Hou's latest film, Millennium Mambo, premiered at the Cannes Film Festival in 2001. With some luck, it might actually reach more than a handful of eyes on US shores.

Hou's filmograghy:

Millennium Mambo (2001)

Flowers of Shanghai (1998)

Goodbye South, Goodbye (1996)

Good Men, Good Women (1995)

Puppetmaster, The (1993)

City of Sadness (1989)

Daughter of the Nile (1987)

Dust in the Wind (1986)

Time to Live and the Time to Die, The (1985)

Summer at Grandpa's, A (1984)

Sandwich Man, The (1983)

All the Youthful Days (1983)

Boys From Fengkuei, The (1983)

Green, Green Grass of Home, The (1983)

Cheerful Wind (1981)

Play While You Play (1981)

Cute Girl (1980)

Posters

The Time to Live and the Time to Die

The Green, Green Grass of Home

Millennium Mambo

(culturevulture.net January 17, 2004)