Southwest China's Zhongdian County Renamed Shangri-La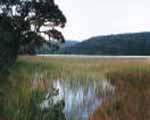 Zhongdian County in Southwest China's Yunnan Province officially changed its name to Shangri-La County Sunday.
The county, situated in the Deqen Tibetan Autonomous Prefecture, was authorized by the State Council to change its name in the December 2001.
"Shangri-La," comes from a novel Lost Horizon written by British writer James Hilton in 1933 in which "Shangri-La" is a mystical and harmonious place.
Many people of different countries who read the novel went to search for "Shangri-La," which is said to be a Tibetan word for paradise, or a perfect place.
In the 1990s, most of the Lost Horizon fans and researchers turned their eyes to Deqen where almost everything the author described in his novel could be found.
As depicted in the novel, the former Zhongdian County has snow topped mountains, vast plateau meadows, traditional folk arts, and a variety of religions and people from different ethnic groups living together in a harmony and peace.
(Xinhua News Agency May 6, 2002)