Beijing Zoo, situated to the west of Beijing Exhibition Center, was known for a short time after the founding of the People's Republic as the Western Suburbs Park (Xijiao Gongyuan). The grounds combine cultivated flower gardens with stretches of natural scenery, including dense groves of trees, stretches of grassland, a small stream, lotus pools and small hills dotted with pavilions and halls.

In the 18th century, the zoo was known as the Sanbeizi Gardens, supposedly named after the third son of Emperor Kangxi, Prince Cheng Yin. Another explanation is that Sanbeizi refereed to the Qing courtier Fu Kang' an and the Gardens the site of his villa. In fact, as early as the Ming Dynasty, an imperial mansion called the Garden of Happiness and Friendship constructed for Prince Kang stood here, and during the Qing, part of the Sanbeizi Gardens called the Garden of Continuity (Jiyuan) became the private property of an official in the Bureau of Palace Affairs.

In 1906, during the reign of Emperor Guangxu, the park area became an agricultural experimental farm and a zoo. Known as the Garden of Ten Thousand Animals (Wanshengyuan), it opened to the public in 1908.

Under the successive rule of the Northern Warlords, the Japanese and the Kuomintang, the park became increasingly desolate. The only elephant died in 1937, and the Japanese, under the pretext of protecting themselves against air raids, poisoned the remaining lions, tigers and leopards. On the eve of the founding of the People's Republic of China in 1949, the park housed only 12 monkeys, two parrots and a blind emu. The park was reopened to the public in 1950, and on April 10, 1955 formally named the Beijing Zoo.

The zoo has developed rapidly and by 1987 it covered an area of over 40,000 square meters. Bears, elephants, pandas, lions, tigers, songbirds, hippopotamuses, rhinoceroses, antelopes and giraffes were brought in the late 1950s, and a gorilla cage, leaf-monkey cage and aquarium house, was opened, containing specimens of over 100 species of reptiles from all over the world, including crocodiles and pythons.

At present, the zoo houses over 7,000 creatures of 600 different species, including the giant panda, red-crowned crane and Pere David's deer-all unique to China-as well as the African giraffe, rhinoceros, chimpanzee and antelope; American continent; wild ox from Europe; and elephant and gibbon from India.

Entry ticket: 15 yuan (Excluding 5 for panda site);

Opening hours: 07:30 to 18:00;

Recommended Time for a Visit: One hour;

Traffic: Bus No.s 7, 27, 103, 105 and 111.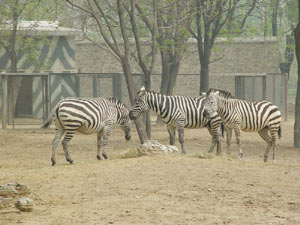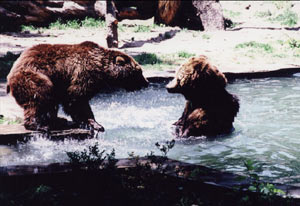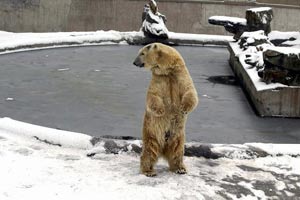 (China.org.cn)