Be Shanghainese for a Day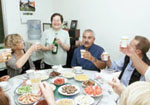 To be a one-day Shanghainese is a hot programme for foreign visitors.
"You can have two choices," said Xu, an official who is in charge of the programme. People can make either a 12-hour or a 24-hour visit.
The half day visit starts at about 9:00am. Activities include visiting a local kindergarten and enjoying the performance of the Elder Singing Group. Then housewives will lead you to the wet market to shop for food in the same way most locals do every day. The next step is the most interesting, to learn how to cook Chinese food. Here, jiaozi (dumplings) are a must. Of course, after working, you can enjoy the meal with a local family.
In the 24-hour arrangement you can also sleep in a Chinese home. But you should get up early the next morning, because people will lead you to the park to play Taiji (shadow boxing) and do morning exercises.
About 500 local families currently participate in the programme as host families. "Most of them are willing to make friends with foreigners especially children," Xu said.
The programme is not free. Groups (five people at least) are charged 80 yuan (US$10) per person for half day. If you are interested in the 24-hour version, it will cost you 350 yuan (US$42), which covers three meals and accommodation.
( Shanghai Star September 12, 2002)