What do Pan Gu, who separates the sky from the earth, Nu Wa, who patches up the sky and Kua Fu, who chases the Sun, have in common?

All are forgotten heroes from ancient Chinese mythology. Or so it would seem. Their stories have been told for generations in the past thousands of years.

But today their influence is weakening as Chinese children turn instead to the likes of Harry Potter and The Lord of the Rings for their fantasy fix.

"Many primary and middle school students know little about ancient Chinese mythical characters and their tales," said Cui Changle, a Chinese Literature ph.D.

Cui is co-author of Chinese Mythology, a comic series in China.

The series, published by the Yanbian University Press, tells the mythical stories of the ancient Middle Kingdom in cartoon form.

"I spoke to many children and was impressed by their ingorance of ancient Chinese tales. That is why I compiled this comic series: to help Chinese children learn more about Chinese mythology," explains Cui.

The origin of most Chinese myths dates back to before the first dynasty, the Xia (21st-16th century BC).

Chinese mythology shares a lot in common with that of other civilizations. They tell about the origins of the world and humans, the arcanum of the sun, moon, and the stars and other natural phenomena and parables.

Cui said in spite of a rich tradition of mythology, China is not regarded as one of the great myth-creating civilizations.

In contrast to the highly developed mythology of ancient Greece, ancient Chinese myths are fragmentary and laconic.

They were scatterly recorded in many ancient books. "This has actually caused a great deal of difficulty for today's readers to understand the stories, especially for children," said Cui.

His comic series tears down the confusion with vivid and colourful and appealing cartoon figures.

Together with the other co-author Ge Hui, Cui spent a great deal of time compiling the myths, which proved a challenging task.

Many myths appear in several versions, sometimes even under different names.

The relationships between different characters are also very complicated.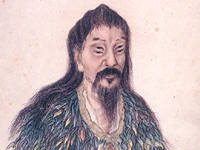 For example, the relation between Huang Di and Yan Di, two tribal chieftains causes confusion.

While it was universally acknowledged that the two were half brothers, different versions disagree on whether they were born to different fathers or different mothers.

Cui is hoping his comics will help solve the difficulties. And he hopes the publishing of his comics here will follow the success of its Korean editions.

There, the comics series has been thrilling young readers and ranked 8th on the bestseller list two weeks after its launch.

(China Daily January 24, 2005)