If you were to ask Western fans of Hong Kong movies who the most popular star in Asia is, names such as Jackie Chan and Chow Yun-Fat would probably come up. However, it is Stephen Chow (sometimes credited as Steven Chow, Stephen Chiau or by his Chinese name, Chow Sing Chi) that is Asia's top box office draw.

Born in 1962 in Hong Kong, Chow grew up as the only boy among three sisters (which may explain the troubles he often encounters with the ladies in his movies). After graduating from high school, he enrolled in the Shaw Bros. TVB acting school in 1982.

During his time at the school, his rubber-faced mannerisms found many fans, and he had his first taste of success on the children's TV show "430 Space Shuttle," which also starred another future Hong Kong movie star, Tony Leung Chiu-Wai (Chow finding success on a kid's show could be considered a bit ironic, since Chow is said not to like children very much). Chow also worked with Ng Man-Tat, who would later become his sidekick in many of his most popular movies.

After his time at the TVB school, the studio immediately signed him to a contract, and he enjoyed a successful run on the network in both comedies and dramas. By 1987, Chow had entered into the movie industry with a role in Final Justice, for which he won the prestigious Taiwanese Golden Horse award for best supporting actor. The award caused Chow to put his comedic talents on the back burner as he appeared in a series of action and dramatic roles, including John Woo's Just Heroes and Jet Li's Dragon Fight. However, after appearing with Jacky Cheung in the comedy Faithfully Yours, Chow's comedic nature returned to his film work.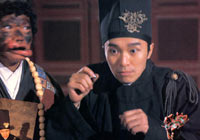 In 1990, Chow scored his first major box office hit with All for the Winner, which was a parody of the previous year's box office champ, Wong Jing's God of Gamblers. Wong is a producer/director who is never one to shy away from cheap publicity, so he hired Chow for the sequel to God of Gamblers. It was with Wong -- a director known for his schizophrenic style -- that Chow solidified his own comedic style, which would come to be known as "moy len tau." Moy len tau is a Cantonese term that roughly translates to "nine comes after eight, but eight has nothing to do with nine," but is more generally termed as "nonsense comedy."

Born from the comedies of the Hui brothers of the late 1970's-early 1980's such as the Mr. Boo series, Chow's moy len tau style features manic pacing, high levels of physical comedy, parody, popular culture references, and heavy use of Cantonese slang. The dependence on Cantonese terms made Chow's movies huge hits with local audiences, and his physical attributes -- notably the aforementioned "rubber face" and general good looks -- translated Chow's films into international hits as well. Chow's collaborations with Wong, which included yet another God of Gamblers movie (by which time he had gained enough popularity to be the movie's top-billed star) had given Chow the basic template for his films -- a slightly dimwitted, but talented, man gets thrown into strange circumstances, where he ultimately finds redemption (and resolution) through love.

After the success of the God of Gamblers movies, Chow's star continued to rise. 1991's

Fight Back to School became Hong Kong's top-grossing film of all time, knocking John Woo's mega-hit A Better Tomorrow out of the top spot. The same year also saw Chow appearing in a comedic homage to one of his idols, with Fist of Fury '91, a parody of the classic Bruce Lee movie. Chow continued to spoof other popular movies, such as Swordsman with Royal Tramp, and also did somewhat more serious fare with movies based on folk tales and heroes, as with Flirting Scholar and King of Beggars. Though not was all wine and roses during this period -- Hong Kong audiences are notoriously fickle -- and Chow had his share of flops. But by the time he completed The God of Cookery in 1997, Chow had not only cemented himself as one of Asia's top stars, but a talented producer, writer and director as well.

Stephen Chow is now in the envious position in the Hong Kong movie industry of only having to do one or two movies a year in order to keep in a public's eye (many stars appear in as many as a dozen films a year). And like many of Hong Kong's top stars, Hollywood has come calling. He was originally slated to direct a US remake of God of Cookery starring Jim Carrey, but eventually turned the job down after getting tired of dealing with Hollywood's red tape. Like his comedic style, Stephen Chow seems something that is unique to Hong Kong movies and something which would (and could) only be featured there. However, with the recent success of Chow's Shaolin Soccer (which became the all-time Hong Kong box office winner for a domestic product), American interest seems to have been renewed. Shaolin Soccer is slated to be given a release in US theatres, with re-releases of some of his older movies to follow.

Filmography:

Actor
Shaolin Soccer (2004)
Gorgeous (1999)
King of Comedy (1999)
The Tricky Master (1999)
Lawyer Lawyer (1997)
God of Cookery (1996)
A Chinese Odyssey Part One: Pandora's Box (1995)
A Chinese Odyssey Part Two: Cinderella (1995)
Out of the Dark (1995)
Sixty Million Dollar Man (1995)
From Beijing With Love (1994)
Hail the Judge (1994)
Love on Delivery (1994)
All's Well, Ends Well (1992)
Fight Back to School II (1992)
Fight Back to School III (1992)
Royal Tramp 2 (1992)
Fight Back to School (1991)
Legend of the Dragon (1991)
The Magnificent Scoundrels (1991)
Royal Tramp (1991)
Tricky Brains (1991)
All For the Winner (1990)
Curry and Pepper (1990)
Lung Fung Restaurant (1990)
Triad Story (1990)


God of Gamblers II (1989)
Just Heroes (1989)
Dragon Fight (1988)
Faithfully Yours (1988)
Final Justice (1988)
He Who Chases After the Wind (1988)

Cameo
The Banquet (1991)

Director
Shaolin Soccer (2004)
King of Comedy (1999)
God of Cookery (1996)

Screenwriter
Shaolin Soccer (2004)

(hkfilm.net March 1, 2004)