Located at the flourishing Xisi area of Beijing, the Geological Museum of China is a national level museum of geological science.

The museum, opened on October 1, 1959, is the earliest geological scientific museum of China. Its predecessor can be traced back to the Geological and Mineral Products Exhibition Hall of the Geological Investigation Office founded in 1916. Its construction area is 10,000 square meters.
Among the Asian similar museums, it is ranked as the No.1 geological museum that is well known for its largest scale, having the most abundant exhibition contents.

At present, the Geological Museum of China treasures up more than 100,000 geological specimens. Many of them are precious items reputed as "National Treasures", such as "the Giant Shandong Dinosaur" fossil, the highest and most complete dinosaur fossils extant in the world; the fossils of primitive birds that were found in the west of Liaoning Province, which has the essential values to the research on birds of the area; the teeth fossils of Yunnan Yuanmou Man, which shifts the appearance of human beings in China to a much more earlier time; the stoneware, stone pearls, bone needles and bone decoration unearthed from the site of the Upper Cave man at Zhoukoudian in Beijing; a cinnabar crystal of 237 grams that is called as "King of Cinnabar"; and more than 60 new mineral products that were found in China, and so on.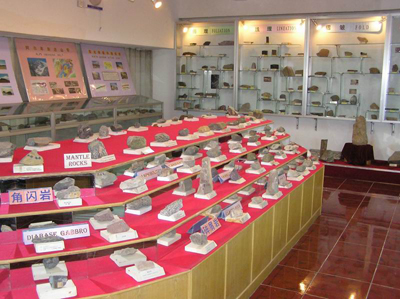 Basic displays of the museum are composed of five exhibition halls, namely, the exhibition halls of geological resource, global history, stratum paleontology, mineral rocks and diamond, with an exhibition area of 2,500 square meters.

The hall of geological resource introduces in different catalogues and classifications the abundant mineral products and other geological resources in China; the hall of global history introduces earth formation and construction, earth inner motive power geological action, earth outer power geological action and earth washing action; in the stratum paleontology hall, there are the special exhibitions of Zhendan biome, insect fossils, fish fossils, egg fossils, and the Upper Cave Man -- ancient creatures and their characteristics of different geological eras.

The hall of mineral rocks showcases the beautiful mineral crystals or crystal treasures from domestic and overseas, with more than 1,200 varieties of specimens of over 1,000 mineral products, and over 800 classic rock specimens of three different kinds of rocks -- magma rock, alluvial rock and transformation rock. The diamond hall can be divided to four parts, namely diamond, jade, colorful stone and ink stone. It displays the raw stones and finished stones of the common diamonds, the traditional jade and color stone varieties of China and the products and its craftworks developed in the recent history as well as the famous and common ink stones and its raw stones in China. It is the earliest and largest-scale diamond exhibition in China and shares high recognition in the geological cycle, diamond cycle and the vast diamond fans.

In addition to permanent exhibitions, the museum often organizes temporary displays, such as Chinese Petroleum Geology, Geological Technological Revolution, and Earthquake, etc.

The museum mainly does research into the geological scientific technologies and natural science. It also launches consulting activities about geological scientific technologies by providing geological specimens and materials, and directly undertakes the national and local production, scientific research and education tasks. In addition, it is active in scientific popularization activities such as geological science summer camps, photographing and film showing, kinescopes and so on.



Further Information:

Address: Xisi of Xicheng District

Open: 9:00-16:30 (Tuesday - Sunday)

Admission: 30

Tel: 8610-66557858

Website: http://www.gmc.org.cn/

(China.org.cn May 1, 2005)