Prince Gong's Mansion is located near Shichahai Lake, to the northwest of the Forbidden City in Beijing. The private residence of He Shen, a favorite minister of Emperor Qianlong of the Qing Dynasty (1644-1911), it was built in 1777. In 1851, the mansion was bestowed upon Prince Gong by Emperor Xianfeng (1851-1862), hence the name. Sole prince's mansion open to the public, it is the most well preserved mansion in Beijing.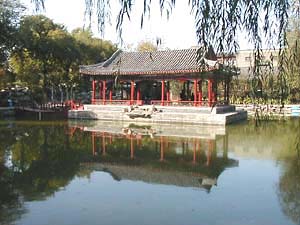 Two stone lions guard the main gate, and magnificent buildings stand to the fore of the mansion, with an elegant garden at the rear. On the wall of the main hall hangs a plaque inscribed with three characters "Bao Guang Shi" in the calligraphy of Emperor Xianfeng.

The buildings at the forefront of the mansion are on three axes, and apart from a two-story building consisting of ninety-nine and half rooms, all are in traditional style. Duofu Study is on the eastern axis, and its structure is in the Ming style. On each of the two side axes are four courtyards, the second courtyard on the western axis being strikingly spacious. In the third courtyard, called Xijin Studio, there is a seven-roomed, exquisitely furnished hall. All the beams and pillars are made of nanmu, and its sandalwood partitions are reminiscent of those found in Ningshou Palace in the Forbidden City. Between the buildings and the rear garden there stands a 165-meter-long two-story building.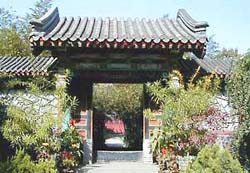 The garden in Prince Gong's Mansion is named Cuijin, meaning concentrated cream of the most beautiful flowers, and to this day it lives up to its name. The garden covers 28,000 square meters, and is surrounded by man-made hills on four sides. The main peak, constructed from Taihu rocks, is in the north. The garden has an arched stone gate in typical Western architectural style, and upon entering the garden, one can see the five-meter high Dule Peak, which is a rock procured from Lake Tai in southern China. Behind it is the Bat Pond (Bat is a homonym of happiness in Chinese). Beyond the pond stands the Anshan Hall and opposite, at the center of the garden, is a hill bearing a stone tablet inscribed with the Chinese character "fu" (happiness) in the calligraphy of Emperor Kangxi (1662-1723). Behind the hill are masterpieces of garden architecture, with more than 20 scenic spots. In addition to its artificial hill, trees, flowers, pavilions and terraces, the garden also contains the unique feature of its own theater.

This theater is lofty and spacious, with subtle lighting, and on its walls Chinese wisteria and green leaves are painted, giving the audience the feeling they are sitting beneath trellises. The floor is paved in pseudo-gold brick, and the seats consist of old-fashioned wooden armchairs furnished with square tables. The performers and the audience are in close proximity, so there is no need for audio amplifying equipment. Here, people can enjoy kunqu, Peking Opera and imperial music, a unique experience full of Qing historical significance.

To help visitors gain a better understanding of the culture attaching to the mansion, the administration of Prince Gong's Mansion has converted Bat Hall into a teahouse. The visitors' program includes a full tour of the mansion, tea drinking, observing the exquisite art of the tea ceremony, sampling Beijing style titbits, and enjoying folklore performances, all of which evoke an enthusiastic response. There is also an exhibition of the history of the Qing Dynasty, including replicas and photos of cultural relics. The exhibits date from 1616, when the Qing Dynasty was founded, to 1912, when the last emperor, Puyi, abdicated.

Further Information:

Address: A14, Liuyin Street, Xicheng District, Beijing. Take Trolley Bus 111, 107, or 108 and Bus 13, 701, or 823, and get off at Beihai Houmen stop.

Open: 8:30 -- 17:00

Admission: 20 yuan

Tel: 8610-66116053

(China.org.cn May 1, 2005)