Located at 36 Dongjiaominxiang in Beijing, formerly site of the Citibank Beijing branch, the Beijing Police Museum is housed within a magnificent example of Western-style architecture.

The museum has 7,000 exhibits on display, some dating back to the Han Dynasty (206 B.C.-A.D.220). The exhibition rooms combine objects, photos, model depictions, and writings. There are also aspects of high-tech in the form of sound effects, lighting and electronic systems, all of which add a modern touch to this ancient edifice.

The museum encompasses four halls: the hall of the History of the Beijing Police, of criminal investigation, of the specific functions of the police, and of police equipment.

In the hall of the History of the Beijing Police, visitors can see the salute guns and guard columns used at the ceremony of the founding of the People's Republic of China, as well as precious documents from the early days of the Beijing Public Security Bureau. One of the showpieces is a well-cut uniform skirt for policewoman. Despite being the first skirt to be designed after the PRC was founded, even today the skirt looks in no way outmoded. It is said that the first-generation of policewomen of new China in Beijing were not accustomed to skirts after having worn the same costume as men for the length of the civil war, and the war of resistance against the Japanese invaders.

As the Beijing Public Security Bureau is responsible for the security of visiting leaders and senior officials from foreign countries, the museum includes a display of motorcycles in the escort fleet used by the Beijing traffic police motor-squad. The latest state guest security force equipment can be seen on the broad-screen TV on the wall of this exhibition room.

China's patrol, sentry, entrance guard, burglar alarm, and fire fighting systems took shape far back in its history. The funerary objects unearthed in Shaanxi Province show the attire and weapons of soldiers and guards of different eras.

Another eye-catching item in the hall is a stuffed and mounted former police dog. The sleuth Feisheng, a purebred German shepherd, rendered distinguished service throughout his time at the Criminal Investigation Department of the Beijing Public Security Bureau, which he joined in 1996.

In the Hall of the Specific Functions of Police sits the oldest fire engine extant in Beijing. Manufactured in the late Qing Dynasty (1616-1911), this century-old China-made pump was the property of a private firehouse.

In the traffic administration section of the hall, extensive historical records reveal the progress of transport management, including roads, vehicles, and drivers, in Beijing. The household registration administration section has on display various household registers, identity cards, temporary stay certificates, passports, road signs, and doorplates. An example of the latter, 15 Doufuchi Lane, was formerly the residence of Mao Zedong and his wife Yang Kaihui.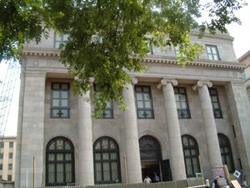 The police equipment hall always attracts a large number of young boys, who linger to look at the weaponry, bullet-proof vests, and other riot police and special police equipment.

Worth particular mention is the martyrs' memorial wall, a relief sculpture. On a mountain representing the bodies of martyrs are enchased eyes taken from photographs of martyrs. On both sides of the wall are shown the sun, the moon and stars, implying that their souls are at rest in heaven. Below the relief are the names of the 58 Beijing policemen that died at their posts.
The museum encourages interaction with its visitors. For example, visitors can answer the questions about laws and regulations that are shown on the broad screen, and those who answer correctly win a gift. It also provides other chances to participate in training techniques, such as simulated driving, shooting and escaping fire.

Further Information:

Address: No.36 Dongjiaominxiang, Dongcheng District, Beijing. Take the subway to Tiandong or Qianmen; or take Bus No.110, 3, 6, 8, 9, 41, 44, or 48 to the Dongjiaominxiang or Qianmen stop.

Open: 9:00-16:00 Tuesday to Sunday

Admission: 5 yuan

Tel: 8610-85222223; 8610-85222282

(China.org.cn May 1, 2005)