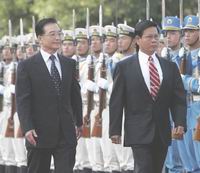 Chinese Premier Wen Jiabao held talks with Myanmar Prime Minister General Khin Nyunt on Monday in Beijing.
With China and Myanmar enjoying longstanding "paukphaw" (fraternal) friendship, Wen said China is willing to expand cooperation in all sectors.
Bilateral exchanges are necessary in today's world as the international situation gets more complex and unstable, Wen said.
Wen highly praised cooperation along the border against narcotics traffickers and expressed hopes that both sides will enhance their efforts and build up border control coordination mechanisms to further check cross-border crime.
Wen promised that China will continue its economic assistance to Myanmar, and said the eventual goal is to raise Myanmar's capabilities for self-development.
He suggested that both sides expand their trade, and choose and implement priority projects.
Nyunt agreed with Wen on strengthening cooperation and expressed his hopes that both countries can move forward jointly in economic development and trade.
Wen also stressed what occurs in Myanmar is internal affairs of Myanmar and should be settled by the Myanmar Government and people. He said he hoped Myanmar can speed up political settlements of existing disputes and move toward democratic progress so as to enhance stability and peaceful development.
Nyunt said his government will continue to promote national unity and democratic progress.
11 documents on economic and technological cooperation were signed during the signing ceremony after the talks.
The agreements are mostly concerned with trade, energy, mineral exploration, telecommunications and other industrial fields, according to Foreign Ministry officials.
(China Daily July 13, 2004)