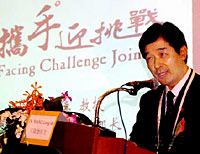 A wave of HIV/AIDS education posters will sweep China soon as the Chinese government steps up its effort to raise people's AIDS awareness, Chinese Vice Minister of Health Wang Longde said at the 15th International AIDS Conference.
"We will put up the posters in every street and lane. We will make sure (our message) makes it to every village," he told a Monday evening special session dedicated to fighting HIV/AIDS in China.
Wang said the government has realized that dissemination of knowledge is crucial in preventing the spread of HIV. People must be made to know precisely how the virus infects people so they know how they can avoid it, he said.
Educating the rural population is deemed crucial because farmers generally have less access to information than city dwellers, and 80 percent of HIV infections in China are in the countryside.
"We also want to find as many of those infected as soon as possible so we can treat them and help them return to their normal lives," he said.
Wang reiterated the country's policies of providing free treatment to AIDS patients who are not covered by the health security system, providing free HIV tests and social and financial support to children whose lives are affected by AIDS.
China now has an estimated 840,000 HIV carriers and 80,000 AIDS patients. Although the prevalence is still low, there has been an accelerated increase, and the high prevalence in some regions and high mortality rate among certain groups has made the government realize the magnitude of the peril.
The theme of the conference, which opened on Sunday and closes on Friday, is "Access for all," which is designed to promote the accessibility of treatment and prevention.
In panel discussions, a very important topic was leadership, since people from all walks of people -- from people living with HIV/AIDS to healthy officials, from movie stars to religious leaders -- all agreed on the significance of strong direction in helping mobilize society in facing the global challenge.
China has been widely praised here for its practical, goal-oriented policies and the strong leadership it has demonstrated. Right before the conference, Premier Wen Jiabao again promised an all-out fight against HIV/AIDS.
"China means business when it talks about AIDS," said Peter Piot, executive director of UNAIDS, the United Nations agency for combating AIDS.
Trevor Neilson, executive director of the global business coalition on HIV/AIDS, said China's commitment in fighting HIV/AIDS is "unparalleled."
Neilson's organization is dedicated to uniting major multinational companies and influential local firms to make them do their part in HIV/AIDS prevention control. Before coming to Bangkok, he visited China and met with senior health officials.
"They invited us to be part of China's battle with AIDS. Their spirit of openness and enthusiasm is incredible," he said at a seminar organized by the US National Press Foundation prior to the conference.
However, panelists here agreed that there still some way to go in turning the policies of China's central government into actions in every province, every county and every village.
Wang said the input by the government alone would not be enough. "We must unite all forces of the entire society, especially from the non-governmental organizations (NGOs), if we want victory in containing AIDS," he said.
He said foreign NGOs are also welcome in this regard. Currently, about a dozen overseas NGOs are operating in China, he said.
Still, the domestic NGOs account for the majority. They possess the very special capabilities in educating the general and high-risk population and providing care and support to those infected, Chinese scientists and activists said.
(China Daily July 14, 2004)