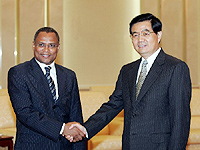 Chinese President Hu Jintao met in Beijing Thursday with visiting Prime Minister Jose Maria Pereira Neves of Cape Verde.
Hu said the people in China and Cape Verde have cultivated traditional friendship. Shortly after the independence of Cape Verde, China and Cape Verde established diplomatic relations.
Since the establishment of diplomatic relations 28 years ago, Hu said, the two countries have witnessed smooth growth of bilateral ties.
The two sides have carried out sincere and effective cooperation in political, economic, cultural and health fields as well as in international affairs, Hu said.
China appreciated Cape Verde's long-term adherence to one-China policy and support to China's reunification cause, Hu said.
As two developing countries, Hu said, China and Cape Verde pursue common goals of peace, stability and development.
China advocates that all countries, big or small, rich or poor, strong or weak, are all equal members of the international community and should respect each other, treat others equally and deal with others friendly, Hu said.
He said the Chinese side is willing to make concerted efforts with Cape Verde to enhance friendly cooperation in various fields and push forward the development of bilateral ties.
Neves said that his country and people thanked China for its support and assistance to Cape Verde for the country's national independence and economic development.
He said the Cape Verde government will firmly support China for its reunification cause and hope the Taiwan issue can be resolved at an early date.
He said he wishes the two countries to enhance bilateral political relations as well as cooperation in infrastructure, agriculture, fishery, tourism and marine transportation.
Cape Verde welcomes Chinese enterprises to expand business in the country, he said.
(Xinhua News Agency August 27, 2004)