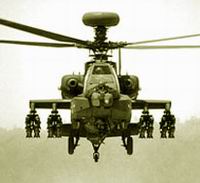 The United States continued to dominate the global arms market last year, signing deals worth more than US$14.5 billion, or 56.7 percent of all global arms sales deals, according to a US Congressional study released on Monday.
Russia ranked second, signing deals worth US$4.3 billion, or 16.8 percent of all global arms agreements, the study showed. Germany was the third largest arms supplier in 2003, signing deals worth US$1.4 billion.
The report, Conventional Arms Transfers to Developing Nations, which is published each year by the Congressional Research Service, also showed that global arms sales fell for a third consecutive year in 2003, dropping to US$25.6 billion, from US$41 billion in 2000.
Developing countries continued to be the primary focus of foreign arms sales activity by conventional weapons suppliers, the introduction of the report said. In 2003, arms transfer agreements to developing countries reached US$13.7 billion, or 53.6 percent of arms sales deals worldwide.
Asia became the largest arms market in the developing world in the period from 2000 to 2003, signing deals worth US$33.8 billion, or 50.8 percent of all arms deals, the report said.
(Xinhua News Agency August 31, 2004)