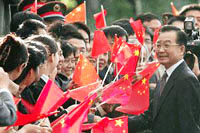 China is satisfied with the fruitful growth of bilateral relations with Russia, Chinese Premier Wen Jiabao said upon his arrival in Moscow Thursday afternoon for an official visit to Russia.
In a written speech delivered at the airport, the Chinese premier said that over the recent years, China-Russia relations have maintained a sound momentum of vigorous growth. The two countries has maintained frequent exchanges among high ranking officials, continuously deepen cooperation in all areas and conducted close consultations and cooperation on international affairs.
During his three-day trip to Moscow, Wen and his Russian counterpart Mikhail Fradkov will hold the ninth regular meeting between heads of governments of the two countries.
This is the first visit that Wen has made to Russia since assuming office. He is also to meet with Russian President Vladimir Putin, Russian Federal Council Chairman Sergei Mironov, and Boris Cryzlov, chairman of Russian State Duma. The Chinese premier is expected to exchange views with those senior Russian officials on bilateral relations and international issues of common concern. They will put forward plans and measures to strengthen bilateral cooperation in all areas in the future.
China and Russia are now seeing growing development of bilateral relations. Wen is to finalize the talks on a series of important agreements between the two countries during his visit to Moscow, which will focus on expanding trade and enhancing coordination in anti-terrorism campaign.
Wen was greeted by Russian Deputy Prime Minister Alexander Zhukov at the airport upon his arrival here after concluding an official visit to the Kyrgyz Republic. Wen attended the third meeting of prime ministers from the member states of the Shanghai Cooperation Organization (SCO) in Kyrgyz capital Bishkek.
(Xinhua News Agency September 24, 2004)