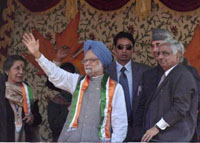 India's prime minister offered Wednesday to hold unconditional talks on Kashmir "with anyone and everyone" as his country began withdrawing troops from the divided Himalayan region as a goodwill gesture to rival Pakistan.
But a gun battle launched by militants hours before Prime Minister Manmohan Singh's rare visit to the region underscored the fragility of the peace process.
India has not announced how many troops it will withdraw from the highly militarized frontier with Pakistan, but news reports have said only about 40,000 of a half million troops would be redeployed. The first contingent of at least 1,000 soldiers headed out Wednesday from the Khanabal base camp, 35 miles south of the region's main city Srinagar, an army officer said on condition of anonymity.
"We want a permanent end to violence," Singh said in a speech to graduating doctors in Srinagar. "I am prepared to hold unconditional talks with anyone and everyone."
India has cited a decline in separatist violence as the main reason for its troop withdrawal. But violence flared again Wednesday when suspected separatists lobbed grenades and fired at soldiers in Srinagar ahead of Singh's visit.
Two suspected militants were killed and two soldiers and a civilian wounded in the attack, said K. Srinivasan, Border Security Force chief.
Kashmir is divided between the nuclear-armed neighbors with both claiming all of it. India accuses Pakistan of arming Muslim insurgents fighting for the region's independence or merger with Islamic Pakistan. Islamabad denies it.
Talks with Kashmiri separatists began last year during the tenure of Singh's predecessor, Atal Bihari Vajpayee. But Wednesday's speech was a strong signal the new government would press for an end to tensions with Pakistan and separatist Islamic militants.
"It is an important day in my life. I was waiting for this for a long time," said Singh, who was given a standing ovation by the crowd. "I have come here with the realization and hope that I can understand what your aspirations and desires are."
The two-day visit, Singh's first to the region since becoming prime minister in May, won praise among Kashmiris, many of whom feel disconnected from the rest of India and distrust the Indian establishment.
"For the first time, an Indian leader was not speaking to Pakistan. He was speaking to us," said 45-year-old teacher Tariq Butt.
Singh was expected to soon announce a US$1.5 billion economic development plan for Kashmir, an aide to the prime minister said on condition of anonymity.
The plan was to include a US$890 million contribution from the federal government, with the rest of the money coming from domestic and international financial institutions, the aide said. The funds would go toward building new roads, developing infrastructure for water, power and health care and building new schools.
In his speech, Singh said economic issues are a major part of the problem in Kashmir, where rampant unemployment has helped create a generation of disillusioned youths.
"We have to rebuild the economy, change the manner of government and root out nepotism and corruption," said Singh.
Despite such talk, militant shootings and bomb attacks remain commonplace in Kashmir.
While some separatists have begun talks with the government, many remain opposed to discussions. Separatists shut down much of Jammu-Kashmir on Wednesday with a general strike, called to coincide with Singh's visit and protest the central government's control over the region. Only a few cars and motorcycles were on the roads, and most businesses were closed.

Pakistan has welcomed the troop reduction, which Singh has said was the result of a lessening in separatist violence.
"This confidence-building measure would further facilitate the (India-Pakistan) dialogue," Pakistani foreign ministry spokesman Masood Khan said.
The separatist insurgency has ravaged Kashmir, the only Muslim-majority state in predominantly Hindu India. More than 65,000 people have died since 1989.
The militancy and a five-decade territorial dispute over Kashmir are at the heart of the India-Pakistan rivalry and two wars between the nations.
(China Daily via agencies November 18, 2004)