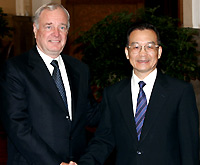 On Thursday, China and Canada agreed to view the energy sector as priority areas for long-term cooperation.
A statement issued after a meeting between the Canadian prime minister, Paul Martin, and Premier Wen Jiabao said the two nations have "decided to work together to promote cooperation in the oil and gas sector, including Canada's oil sands, as well as in the uranium resources sector,"
They will also encourage businesses to expand partnerships, the Statement on Energy Cooperation in the 21st Century said.
The National Development and Reform Commission and Natural Resources Canada will maintain regular dialogue and exchanges of views. Contacts will be conducted through the Canada-China Joint Working Group on Energy Cooperation, under a 2001 memorandum of understanding (MOU), the statement said.
"The work of the group will initially focus on enhancing our partnership in the fields of multilateral cooperation, natural resources and energy, and trade and investment," the document said. It will also tackle global security, prosperity and sustainable growth, as well as promote people-to-people ties.
"Significant development has been seen in our relationship in a wide-range of areas during the past few years," said Wen, speaking to a trade delegation of more than 300 entrepreneurs.
"There is a need for the two countries to deepen understanding," said Wen, adding that Canada has great advantages in energy and minerals, while China has advantages in the production of electrical appliances, daily necessities and electrical and mechanical products.
"The Canadian business committee are here not for short-term prospects... but for long-term cooperation," said Martin.
Amongst the other agreements made during Martin's visit, China's Putian Corporation and Canada's Nortel signed a pact to set up a joint venture for research and development, manufacture and sale of 3G mobile telecommunications equipment and products in China.
(China Daily January 21, 2005)