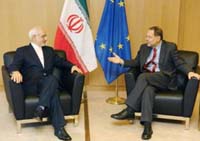 Iran's vice president urged Europeans on Tuesday to speed up talks with Tehran on its nuclear program, trade and regional security -- comments that reflected possible frustration at the lack of progress amid reports that negotiations are deadlocked.
The statement by Gholamreza Aghazadeh, who also serves as head of Iran's atomic energy organization, came a week after a leaked summary of the talks showed no progress in getting Iran to scrap its uranium enrichment activities.
The United States and several other countries fear Iran is enriching uranium to be used for nuclear weapons instead of generating power.
Aghazadeh suggested Iran was not happy with the progress of the talks, telling reporters: "We have to take the negotiations seriously and accelerate them."
European officials acknowledged the complexity of the negotiations but said talks were going at a good pace and a diplomatic solution remained on track.
"The European Union is committed to the continuation of this dialogue," said Cristina Gallach, the spokeswoman for Javier Solana, the European Union's foreign policy chief. "The main challenge is to find what we call the objective guarantees that the Iranian program is of a peaceful nature."
Iran insists its nuclear program is aimed at power generation. But the summary of the last meeting on the issue involving representatives of France, Britain, Germany and Iran says Tehran acknowledged what Washington and its allies have argued all along -- that the oil-rich country has no need for nuclear energy.
Diplomats familiar with the talks said on condition of anonymity that the atmosphere between both sides had improved during the second round held in Geneva on January 17.
But they agreed that no progress was being made on the Europeans' insistence that Iran's temporary suspension of its enrichment programs be turned into a commitment to permanently mothball all such activities.
Iran suspended uranium enrichment and all related activities in November, derailing US attempts to have it reported to the UN Security Council for alleged violations of the Nuclear Nonproliferation Treaty.
Iran is not prohibited from running enrichment programs under the Nonproliferation Treaty, but agreed to a freeze to generate international goodwill. The summary of the January 17 meeting said Iranian officials used "biased and selective quotes" from the treaty in arguing their country had the right to enrich.
Solana was set to join the foreign ministers of France, Britain and Germany sometime next month for talks with Iran's top nuclear negotiator, his spokeswoman said.
"The next negotiation will be more precise and more concrete," Aghazadeh said through an interpreter after an hour-long meeting with Solana.
In exchange for nuclear guarantees, the Europeans are offering Iran technological and financial support and talks on a trade deal.
Aghazadeh said there had been no discussion of bringing the United States into the discussion.
Last week, Mohamed ElBaradei, head of the International Atomic Energy Agency, suggested European diplomatic efforts may fail if Washington refuses to join the talks.
(Chinadaily.com via agencies February 2, 2005)