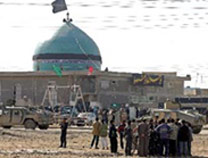 Four explosions targeted Iraq's Shiite muslims and security forces in Baghdad on Friday, police and witnesses said.
Three people were killed, including a child, and five others wounded in an explosion in a cafe in the Shiite Ash Shulah district northwest of Baghdad.
Another attack took place at al-Adhamiyah neighborhood in northern Baghdad, when a suicide bomber blew up himself at an Iraqi security checkpoint manned by policemen and national guards, killing at least one police officer and wounding two civilians, witnesses said.
Earlier, at least 15 people were killed and 20 others were wounded in a powerful explosion in a Shiite mosque in the southern neighborhood of Dora, while another Shiite mosque in western Baghdad was attacked by mortar round, during which one person was killed and at least six others injured.
(Xinhua News Agency February 19, 2005)