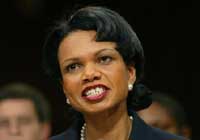 US Secretary of State Condoleezza Rice said Tuesday that the United States doesn't have "a posture against China", but Washington is concerned about China's military modernization.
"There are several ways to deal with. Perhaps the most important is to recognize the United States has very strong alliances in the region that bring stability to the region at a time when the Chinese role is changing," Rice told reporters aboard the plane taking her to Asia, including Beijing.
"Now, we don't have any desire to have the alliances or our posture be a posture against China," Rice said.
Chinese Premier Wen Jiabao said on Monday in Beijing that China's military build-up can by no means be compared with the United States, which has the world's best-armed army and its military bases strewn over several continents. China's annual defense budget is less than one tenth of the United States.
However, Rice said: "Certainly, China's military spending is concerning because it is taking place at a time when the cross-Strait issue is not yet resolved and in which the United States has certain commitments to a peaceful solution."
The top US diplomat, on her first 6-nation trip to Asia as secretary of state, said the United States wanted to act as an "upright anchor" providing stability by criticizing both sides of the Taiwan Straits.
Rice said that US alliances in Asia, such as with Japan and South Korea, could keep a military balance, although she stressed Washington was no threat to China, and wanted the emerging powerhouse to play a "constructive role" in the region, Reuters reported.
"China can emerge as a constructive force in Asia," she said. "Our goal is to enhance the chances for a constructive role for China through engagement with China on security issues like the six-party arrangement," where China has hosted three round of talks over North Korea's nuclear project.
(Chinadaily.com.cn via agencies March 16, 2005)