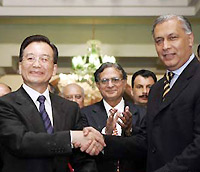 Premier Wen Jiabao and Pakistani Prime Minister Shaukat Aziz signed a treaty of friendship, cooperation and neighborly relations on Tuesday. Wen is on the first leg of a four-nation South Asian tour.
The agreement states that strengthening relations between China and Pakistan is in the fundamental interest of the two countries and the two peoples and conducive to regional and global peace, stability and development.
It reaffirms the Joint Declaration Between the People's Republic of China and the Islamic Republic of Pakistan on Directions of Bilateral Cooperation, signed by the two heads of state in 2003.
Both nations agree to advance their relations in accordance with the universally recognized principles and norms of international law and on the basis of the Five Principles of Peaceful Coexistence.
The treaty also states that China and Pakistan will adhere to the principle of non-encroachment on sovereign territories and strictly observe their boundary agreements.
Pakistan also reiterated its one-China stance, indicating in the agreement that it supports China's national reunification and all the efforts of the Chinese government in safeguarding national sovereignty and territorial integrity.
China expressed in the treaty its respect for Pakistan's independence, sovereignty and territorial integrity and its support for Pakistan's efforts to settle peacefully problems with its neighboring countries.
Both nations agreed not to join any alliance that infringes upon the sovereignty, security and territorial integrity of the other, nor will either allow its territory to be used by a third country to jeopardize the other party to the pact.
Areas in which the two countries agreed to cooperate include fighting terrorism, separatism and extremism, as well as organized crime, illegal immigration and trafficking in drugs and weapons.
The nations' security and military organizations will also step up cooperative efforts.
China and Pakistan will also collaborate closely in mutually beneficial activities relating to trade, science, technology, finance and education, as well as culture, tourism and sports.
Wen arrived in Islamabad on Tuesday for a three-day visit. He will then spend a day each in Bangladesh and Sri Lanka before heading for a four-day stay in New Delhi from April 9. It is Wen's first visit to the region since assuming his post as premier.
(Xinhua News Agency April 6, 2005)