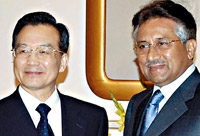 Premier Wen Jiabao Wednesday urged Pakistan and India to find peaceful solutions to their border disputes.
The remarks were made during Wen's meeting with Pakistani President Pervez Musharraf at which the two leaders also discussed ways to tackle trade imbalance.
"China is delighted to see Pakistan-India relations improve steadily," Foreign Ministry spokesman Kong Quan quoted Wen as telling Musharraf.
"We hope to see the two neighbors, both friendly to China, work out a peaceful solution to their disputes -- including those on Jammu-Kashmir -- based on the Five Principles of Peaceful Coexistence," Wen said.
The five principles, the guiding norms of international relations, were initiated by China, India and some other Asian countries in the mid-1950s.
They are the principles of mutual respect for sovereignty and territorial integrity, mutual non-aggression, non-interference in each other's internal affairs, equality and mutual benefit, and peaceful coexistence.
Musharraf said his country welcomed Chinese businesses to invest in Pakistan's infrastructure, energy and high-tech industries.
Last year China imported US$600 million from Pakistan and exported US$2.46 billion worth of goods to the country, according to Chinese customs statistics.
In light of the trade deficit, Premier Wen said China will strive to expand imports from Pakistan.
The imbalance is set to change, as some Pakistani exports to China will enjoy zero tariffs thanks to an "early harvest agreement" on a China-Pakistan Free Trade Area, Wen said.
Following the meeting, Wen attended a Pakistan-China Forum on Trade and Investment.
With Pakistan's abundant resources and China's applicable expertise and experience, the two sides are endowed with tremendous business potentials, Wen said.
Pakistani Prime Minister Shaukat Aziz yesterday said there is a natural linkage and scope for tremendous cooperation between Pakistan and China, which are both well placed to benefit from increased development.
On Tuesday night, the two sides signed a treaty of friendly and good neighborly cooperation, pledging to upgrade their strategic partnership to an even higher level.
The landmark pact, which came after Wen's talks with Aziz, encapsulated half a century of good relations, and charted the course for future development.
In addition to the treaty, the two countries also inked a dozen other accords, including those on fighting terrorism, extremism and separatism. Wen said the two countries should work to ensure the long-term growth of their ties, and develop a closer strategic partnership in line with the stipulations of the treaty.
Aziz echoed this, saying relations with China, which have entered a dynamic new stage, are a "cornerstone" of his country's foreign policy.
Wen also attended a foundation stone laying ceremony at a Pakistan-China Friendship Center in Islamabad before flying to Lahore, Pakistan's second largest city and a cultural and educational center, yesterday evening.
Wen is scheduled to arrive in Bangladesh today, for the second leg of a four-nation tour, which will also take him to Sri Lanka and India through April 12.
(China Daily April 7, 2005)