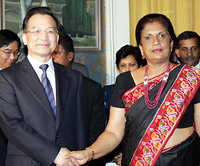 Visiting Chinese Premier Wen Jiabao proposed in Colombo on Friday to build up all-round and cooperative partnership characterized as sincerity, mutual help and long-term friendliness between China and Sri Lanka.
Wen made the proposal during talks with Sri Lanka President Chandrika Bandaranaike Kumaratunga, who agreed with Wen's point of view.
The Chinese premier put forward a four-point proposal to strengthen the partnership between the two countries.
They include promoting traditional friendship and expanding exchanges between governments, parliaments and parties; exploring new areas for economic and trade cooperation; expanding cooperation in such fields as agriculture, fishery and tourism; and enhancing coordination in international and regional issues.
Wen expressed appreciation for the adherence of Sri Lanka on the Taiwan issue, saying China supports the efforts of Sri Lanka on safeguarding its national unity and national dignity, welcomes Sri Lanka to play a more active role in the regional and international issues.
Wen also mentioned the tsunami happened at the end of last year, which caused huge casualties and property losses in Sri Lanka. "I am here to express my sympathy and relief to Sri Lanka government and people," Wen said.
He said the Chinese Ministry of Civil Affairs and Red Across Association will offer another 8.7 million US dollars donation to Sri Lanka.
Wen stressed China is a developing country and its aid is limited, but the Chinese people is sincere and the help is from the bottom of their heart.
For her part, Kumaratunga recalled the contact between Sri Lanka and China in ancient time, voicing her belief that Wen's visit will further promote friendly cooperation between the two countries.
She reaffirmed Sri Lanka's adherence to the "one-China policy", and supports Anti-Secession Law.
She also expressed gratitude for the assistance that China has offered after the tsunami.
The two sides also exchanged views on the situation in South Asia.
Wen said China, as a neighbor of South Asia, hopes the countries in the region would respect each other and exist peacefully.
China would like to establish long-term and good-neighborly relations with all South Asian nations, and will work with Sri Lanka and other nations to play a constructive role in maintaining peace and development of the region.
China and Sri Lanka signed six documents after the talks. Wen and Kumaratunga were present at the signing ceremony.

(Xinhua News Agency April 9, 2005)