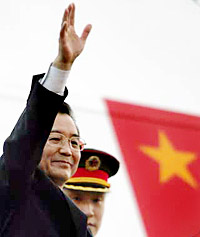 Visiting Premier Wen Jiabao arrived in the Indian capital of New Delhi Sunday evening, and is expected to meet with senior Indian leaders Monday in a landmark visit aimed at pushing bilateral relations to a new high.
Analysts anticipated the tour will lead to a major step forward towards the resolution of the long-standing border dispute between the two sides.
"China and India, both developing countries, could have a positive influence on peace and development in Asia and even the whole world through a harmonious relationship, enhancing mutual trust and expanding cooperation," Wen said.
China is ready to work with India on expanding relations from a strategic and overall perspective, as well as address issues left over from history, he said.
Wen made the remarks upon touching down on Indian soil late Saturday from Sri Lanka.
The premier spent most of the weekend visiting Bangalore, the "silicon valley of India," before flying to New Delhi yesterday afternoon.
He is on the last leg of a four-nation South Asian tour, which started with Pakistan on April 5, and also took him to Bangladesh.
Wen is due to meet Indian Prime Minister Manmohan Singh today.
They "will talk about all the important issues, and the border question will also be discussed," Indian Home Minister Shivraj Patil was quoted by Xinhua as saying.
However, Patil cautioned against pinning too much hope on the talks, saying results should not be expected overnight, according to Xinhua.
Before Wen embarked on the tour, Vice Foreign Minister Wu Dawei revealed in Beijing that during the premier's visit, China and India may agree on guiding principles to help them resolve their border dispute.
The vice minister stressed the current border issue would not stand in the way to advancing friendly and cooperative relations between China and India.
Yesterday in New Delhi, special representatives from China and India ended their fifth round of talks after reaching an agreement on the guiding principles on the solution of the border issue.
Officials from the Chinese delegation told Xinhua the meeting was held in a cordial, cooperative and constructive atmosphere.
China's special representative and Vice Foreign Minister Dai Bingguo reached an agreement with Indian special representative and National Security Advisor M K Narayanan.
Both sides agreed the next round of talks would be held in Beijing at a date acceptable to both countries.
(China Daily April 11, 2005)