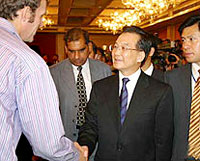 Premier Wen Jiabao Tuesday urged Japan to treat history correctly.
During a meeting with Indian press at the end of his four-day visit to India, Wen noted that only if a nation respects and is responsible about its history and wins the trust of other peoples in Asia and the rest of the world, can it play a bigger role in the international community.
"The core issue of Sino-Japanese relations is that Japan should treat history correctly," Wen said.
He said Japan launched a war of aggression last century, which brought about huge sufferings to the people of China, other Asian nations and the rest of the world.
Recently, demonstrations erupted in China and other countries against Japan's distortion of its wartime history. "The strong reactions from Asian peoples should be reviewed by the Japanese authorities," Wen said.
He said the two sides should learn from history and face up to the future to continue to develop the relationship between China and Japan.
Relations with India, Russia
China holds a positive view on the exchange of views with Russia and India on issues of common concern, Wen said.
He said China, India and Russia are influential countries of the world, and have similar views on promoting democratization in international relations and safeguarding international security and stability.
Wen particularly mentioned that cooperation between the three countries is not leading to the formation of an alliance and is not directed against any third country either.
Visit to India historic
Premier Wen said that his visit to India was a historic one with fruitful results.
He said both China and India have seen fruitful results through the visit.
"It is better to say it is a historic visit. We all believe that China's stability and development are in the interest of India, and India's stability and development are in the interest of China. The stability, development and prosperity of South Asia are in the interest of the whole world," he said.
To specify the importance of the visit, Wen said it has produced three major results.
The first result was that the governments of China and India "have been able to sign a joint statement to which the two sides have announced the establishment of a strategic and cooperative partnership for peace and prosperity. This means we have actually taken this relationship to a new level."
The second result, he said, was that both sides signed an agreement on the political guiding principles for the settlement of boundary question. "This is a sign that we have taken the settlement of the boundary question to a new stage as well."
The third major result was that the two countries had adopted a five-year plan for the all-round economic cooperation and trade between the two countries. "According to this plan, we have the objective that we'll make our two-way trade volume at the level of US$20 billion in 2008 and US$30 billion in the year 2010," he added.
In addition, Wen said he had made extensive exchange of views with Prime Minister Singh and other Indian leaders on bilateral relations and international issues of shared interest and both sides had reached agreement basically.
China supports India's bid for UNSC seat
Wen said China supports India's bid for a permanent seat in the United Nations Security Council.
"We fully understand and support the Indian aspiration to play an even bigger role in international affairs and in the UN," he said.
The premier said he had conveyed the support to Indian Prime Minister Manmohan Singh during their talks.
China attaches "great importance" to India's role in both international and regional affairs, Wen said, adding "India is a very populous developing country and also a very important developing country."
Border trade cooperation with Sikkim
China hopes to have border trade cooperation with Sikkim at an early date, which is in the interest of the two sides, Wen said.
He said Sikkim is not a problem between China and India, and this is the consensus of the leaders of the two countries. Now the Chinese government has been building up the trade market on Chinese side.
In order to secure the stability of the border, Wen said, China has taken measures to solve the border problem left over from history. "This matter tells us that as long as the two sides bear sincerity and patience, the border between China and India will become a bridge linking the friendship of the two sides," he said.
Relations with South Asia
China holds a positive view on promoting cooperation in South Asia and strengthening the role of the South Asian Association for Regional Cooperation (SAARC), Premier Wen said.
He said China hopes to cooperate with South Asia in promoting peace and stability in that region.
China welcomes cooperation between India and international organizations such as Shanghai Cooperation Organization, he said.
China also values India's aspiration to build up relations with the "10+3" (the Association of Southeast Asian Nations plus China, Japan and the Republic of Korea), he said.
On trade cooperation, Wen said China develops cooperation with South Asia according to the situation of different countries.
Wen said that over 50 documents were signed during his visit to four South Asian countries, most of them related to economic and trade cooperation.
He said China develops economic and trade relations with South Asia based on quality and mutual benefit and the two sides have great potential in this regard although the scale of the economic and trade cooperation is still small.
Wen said China will expand high-tech cooperation with India, adding that India has an advantage in software while China is good at manufacturing and hardware.
On Pakistan, he said, China will further the cooperation on infrastructure and mining.
For Sri Lanka, he said, besides economic and trade cooperation, China will make all efforts to give aid.
The Chinese government extended 166 million yuan (US$20 million) in aid to Sri Lanka. On Wen's visit, he brought another US$8.7 million donated by the Chinese people to Sri Lanka.
China will help Sri Lanka build roads, railways and ports and will set up an earthquake monitoring system, Wen said.
For Bangladesh, China will promote agricultural cooperation with the country, Wen said.
Wen left late Tuesday for Beijing after a "highly successful" four-day visit to India marked by the beginning of a strategic partnership between the two Asian giants. Prior to India, he has already visited Pakistan, Bangladesh and Sri Lanka.
(Xinhua News Agency April 13, 2005)